MEMORIAL DAY NAACP CENTRAL BREVARD CHAPTER 2021
1 min read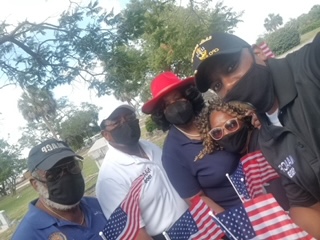 Written by and Photo Credits: Cita Gibson
Members of the Central Brevard NAACP chapter honor veterans before Memorial Day by placing flags on the graves of our fallen heroes in several cemeteries in Cocoa, Florida.

Memorial Day is a federal holiday in the United States for honoring and mourning the military personnel who have died in the performance of their military duties while serving in the United States Armed Forces.

"As the Veterans chairperson for the Central Brevard NAACP, I am very honored to have participated in such a meaningful and necessary event with other members of the chapter. These heroes paved the way for me and other veterans, so placing these flags on their graves is the least we can do", said Terry Spain, retired U.S. Navy Chief Petty Officer.
Members of Chapter who participated were: President Clarence Whipple, VP James Coney, Amicitia Maloon-Gibson retired U.S. Army, Lieutenant Colonel, Terry Spain, retired U.S. Navy Chief Petty Officer Ms. Elaine Harris