As schools open, masks optional at many sites
3 min read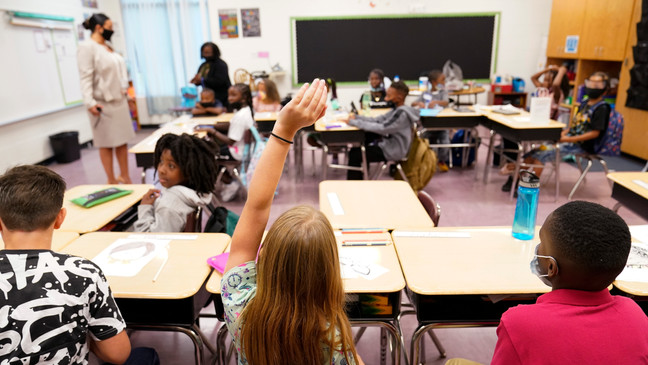 A student raises their hand in a classroom at Tussahaw Elementary school on Wednesday, Aug. 4, 2021, in McDonough, Ga. Schools have begun reopening in the U.S. with most states leaving it up to local schools to decide whether to require masks. (AP Photo/Brynn Anderson)
Rules on face coverings vary by state and district
Jeff Amy
ASSOCIATED PRESS
McDONOUGH, Ga. – As Tussahaw Elementary opened this week for a new school year, teary-eyed mothers led in kindergartners and buses dropped off fifth-graders looking forward to ruling their school. The biggest clue to the lingering COVID-19 crisis was the masks worn by students and teachers – but not all of them.
Georgia, like most states, is leaving it up to local schools to decide on requiring face coverings. And 43,000-student Henry County, like many districts worn out by months of conflict over masks, has decided not to insist on them.
Instead, they are "highly recommended."
Many parents Wednesday in this suburb south of Atlanta had mixed feelings about the policy. Some kept their children home. Others sent youngsters to class with face coverings.
Shatavia Dorsey, the mother of a kindergartner and a fifth-grader, said her children will wear their masks at school regardless of the rules.
"They're not vaccinated because they're too young, and I don't know if someone else is carrying it in," said Dorsey, who is doubtful about the school system's ability to maintain in-person instruction amid rising infections.
With the delta variant soaring, the Centers for Disease Control and Prevention and the American Academy of Pediatrics advised recently that everyone in schools wear masks in communities with substantial or high transmission.
Some parents and political leaders consider mask rules an intrusion on parents' authority to make decisions about their children's health.
California, Louisiana, New Jersey, Oregon and Washington state intend to require masks for all students and teachers regardless of vaccination status. Arkansas, Arizona, Florida, Iowa, Oklahoma, South Carolina, Texas and Utah have banned mask requirements in public schools.
Republican Gov. Ron DeSantis of Florida said Thursday the decision of whether to wear masks in school should be made by parents, adding: "What are the harmful effects of putting a kindergartner in a mask for seven hours?"
And on Friday, the Florida Board of Education said it will issue tuition vouchers so that parents who object to mask requirements can send their children to private school.
Outbreaks that have hit schools at the very start of the year have added to calls for more mask requirements.
In Marion, Arkansas, over 800 students and staff members were quarantined because of exposure since classes began last week in the 4,000-student district.
Marion Superintendent Glen Fenter urged lawmakers to overturn the state law banning mask requirements. Republican Gov. Asa Hutchinson expressed regret over signing the ban and asked that it be lifted. But the GOP-controlled Legislature left it in place Friday.
Later in the day, an Arkansas judge blocked the state from enforcing the ban until further notice.
At least 28 of Georgia's over 180 school districts are requiring masks.
At Tussahaw Elementary, more than 60% of students were wearing masks in four classrooms visited by a reporter Wednesday, though some had pulled them down.