Delta Sigma Theta Sorority president Cheryl Hickman dead at 60
3 min read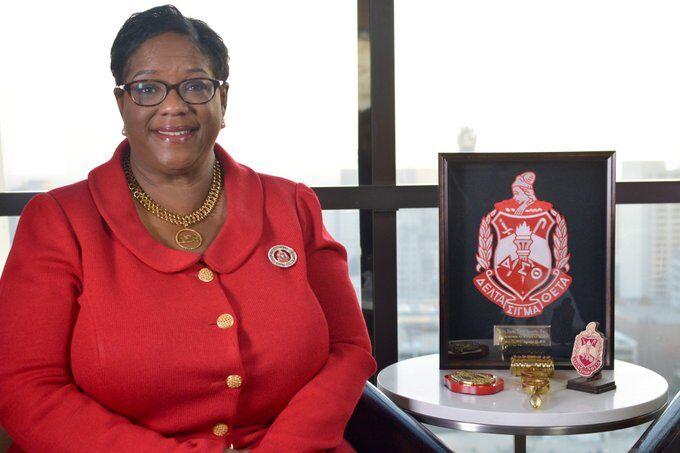 Miami Times Staff Report
The nation is mourning the passing of Cheryl Hickmon, national president of Delta Sigma Theta Sorority, Inc., the nation's largest Black American sorority. Hickmon was elected president of the organization on Nov. 21, 2021 at the 55th national convention held in Atlanta, GA.
According to the sorority, Hickmon died last Thursday after suffering from illness that was not identified. She was age 60.
Hickmon, a beloved and celebrated member, served the organization for 39 years. The Connecticut native was initiated into the Alpha Xi Chapter at South Carolina State University in 1982 and was an active member of the Hartford (Conn.) Alumnae Chapter.
The national office of the sorority released a statement announcing Hickmon's death which read as follows:
"It is with great sorrow that Delta Sigma Theta Sorority, Inc. shares the passing of our beloved National President and Chair of the National Board of Directors, Cheryl A. Hickmon. President Hickmon transitioned peacefully on January 20, 2022 … During this difficult time, we ask that you respect her family's privacy and keep them in your prayers."
President Hickmon was a devoted member of Delta Sigma Theta since 1982 and served in various capacities at the chapter, region, and national level before being elected National President. Some of the positions include: national secretary, eastern regional director, south Atlantic regional representative, co-chair of the National Documents Review and Revision Task Force, co-chair of the National Leadership Academy, and chapter president of the Hartford Alumnae and Alpha Xi Chapter.
Professionally, she supervised the In Vitro Fertilization Laboratories for Andrology and Endocrinology at Montefiore's Institute for Reproductive Medicine and Health a division of the Montefiore Medical Center and a teaching hospital of the Albert Einstein College of Medicine. She worked for the Laboratory for more than 30 years.
Outside of her leadership in Delta, Hickmon served with the Children's Defense Fund movement – The Daughters of Tubman Sisters of Truth under the leadership of Children's Defense Fund Founder, Marian Wright Edelman. Additionally, she was an avid skier and a founding member of the Thrillseekers, Inc. Ski and Adventure Club of New York, and a member of the National Council of Negro Woman, and the NAACP.
This is the first time a national president has died during their term.
She is remembered not only for her role as a leader but for being a colleague, friend, and most of all, sister. The entire sisterhood of Delta Sigma Theta Sorority, Incorporated is mourning Hickmon's loss.
Florida representative Val Demings, who is a member of the sorority, shared her thoughts via Twitter:
"As a member of @dstinc1913, I am devastated by the sad news of the passing of our beloved National President, Cheryl A. Hickmon. My prayers are with President Hickmon's family, friends and all members of Delta Sigma Theta Sorority, Inc."
Organizations including the NAACP and fellow Black Greek Letter Organizations like Omega Psi Phi and Phi Beta Sigma have issued statements about Hickmon's passing. This social media post came from Alpha Kappa Alpha:
"The members of Alpha Kappa Alpha Sorority join our sisters of Delta Sigma Theta in mourning the passing of Cheryl A. Hickmon, National President … We will keep President Hickmon's family, friends and sorority sisters in our thoughts ad prayers during this difficult time."
Cheryl Hickmon is the daughter of the late Dr. Ned Hickmon of Hartford, CT and Bishopville, South Carolina and the late Consuella Anderson Hickmon of Hartford, CT and Cincinnati, Ohio. She is survived by her two older brothers Ned and David Hickmon.
Hickmon's bio reads, "Cheryl lives her life by the motto … 'Don't measure life by the number of breaths you take but by the number of moments that take your breath away.'"
Funeral arrangements have yet to be announced.
About Author