Ukraine pushes for cease-fire as fighting rages, sanctions hit Russia's economy
7 min read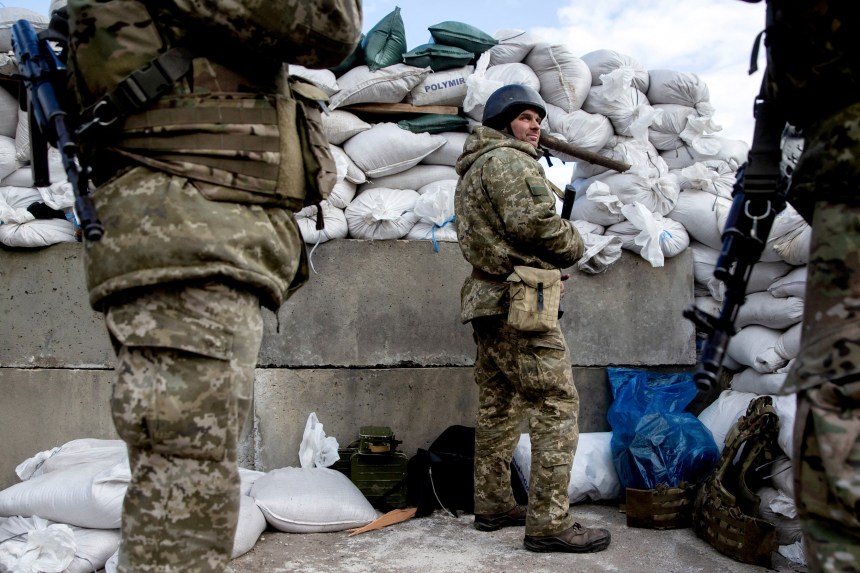 Kyiv's position has been bolstered by its staunch early resistance, military assistance from countries across the world and a growing global effort to isolate Russia economically.
Ukrainian armed forces have set up checkpoints in cities, like the one shown here in Zhytomyr on Sunday.Viacheslav Ratynski / Reuters
Feb. 28, 2022, 4:19 AM EST / Updated Feb. 28, 2022, 11:06 AM ESTBy Rachel Elbaum and Josh Lederman
Russian and Ukrainian officials sat down for talks on Monday even as fighting raged around key cities and Russian President Vladimir Putin confronted the fallout from an invasion that has rallied the West behind his neighbor and against Moscow.
Ukraine said that it would push for an immediate cease-fire and the withdrawal of Russian troops from the country ahead of the talks at the Belarusian border.
Kyiv's position has been bolstered by its staunch early resistance, military assistance from countries across the world and a growing global sanctions effort that has sent Moscow's economy reeling.
But even as officials negotiated at the border, Ukraine said its second-largest city was coming under attack from heavy Russian shelling.
The conflict was now also being fought in the shadow of nuclear threats, with the Russian military saying Monday that its nuclear deterrent forces had been put on high alert after Putin's order.
---
Ukrainian and Russian officials sit down for talks on the Belarus border. France's Macron holds separate phone calls with Putin, Zelenskyy.
"Staunch resistance" is hampering Russian advance, Britain says.
U.S. expands sanctions on Russia's central bank as Moscow's economy reels. Switzerland, breaking traditional neutral status, announces sanctions, too.
Russia's military reports its nuclear deterrent forces have been put on high alert following Putin's order.
More than half a million people have now fled Ukraine since the conflict began, the United Nations says.
---
While growing numbers of people have fled the Russian advance, those who stayed were enduring an air assault that Kyiv and international watchdogs said was increasingly hitting civilians.
Russian forces were accused of carrying out massive shelling in Ukraine's second-largest city, Kharkiv, with graphic video shared on social media Monday appearing to show the assault and its aftermath. In one video, bodies can be seen on the ground in pools of blood.
Ukrainian interior ministry adviser Anton Gerashchenko shared video appearing to show flashes in the sky as smoke filled the air, and said that dozens had been killed and hundreds wounded.
"This horror must be seen by the whole world," he said.
NBC News has verified the video is authentic, but it has not confirmed reports of any casualties from the incident. Russia has repeatedly denied targeting civilians.
United Nations human rights chief Michelle Bachelet said Monday that 102 civilians, including seven children, were killed across Ukraine since Thursday. But those figures probably undercounted the full extent of the national death toll, she added.
The head of the U.N. refugee agency, meanwhile, said that more than a half a million people had fled the country of 44 million in the wake of the Russian attack.
Others have sought shelter inside metro stations and parking garages while missile strikes and gunfire hit cities.
As Russian troops bore down on the capital, a strict 39-hour curfew that kept people off Kyiv's streets all weekend ended early Monday.
Residents stepped out Monday to replenish supplies and waited in line at supermarkets between the wail of air raid sirens.
"We are calm and do have a lot of resolve," Vadym Khortiuk, 28, said, adding that his hopes had been boosted by the fact that "we have a lot of support from our friends from the West."
That support has taken the form of increasing pledges of weapons and other military equipment, but also of a concerted effort to make Putin pay for the invasion economically.
Crippling sanctions imposed by the United States and its allies sent the ruble plunging to record lows early Monday, while Russia's central bank kept the stock market closed and raised its interest rate to 20 percent from 9.5 percent in an attempt to shore up the plummeting national currency and prevent a run on banks.
The U.S. continued to ramp up the pressure, announcing it would expand sanctions on the country's central bank in a move that will block Americans from doing any business with it, and freeze any assets the bank holds in the U.S.
Switzerland, traditionally a neutral party in international affairs, announced Monday it would sanction Russia, too.
"Switzerland reaffirms its solidarity with Ukraine and its people; it will be delivering relief supplies for people who have fled to Poland," Switzerland's federal council said in a statement.
Kremlin spokesman Dmitry Peskov admitted that "Russia's economic reality has changed" due to the "heavy" sanctions, but said the country was prepared and able to handle the damage. Putin met with advisers on Monday about the economy, calling the West an "empire of lies" in remarks broadcast on state television.by TaboolaSponsored StoriesCAPITAL ONE SHOPPINGAmazon Has Millions of Prime Subscribers — But Few Know About This Savings TrickFORGE OF EMPIRESIf You Need To Kill Time On Your Computer, This Vintage Game Is A Must-Have. No Install.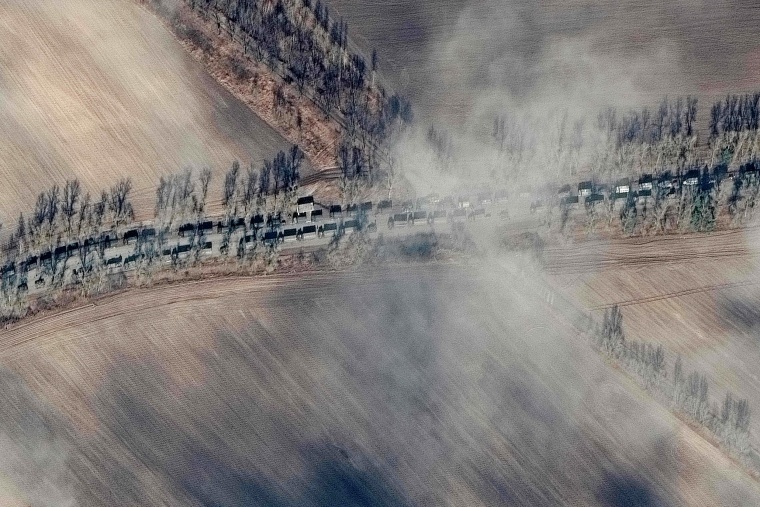 Russia also closed its airspace to airlines from the European Union and several other countries in retaliation for the bloc banning all travel from Russian planes over its airspace.
With that in mind, the U.S. urged its citizens to consider leaving Russia immediately given the dwindling number of commercial options available. Washington also authorized the voluntary departure of nonemergency employees and family at the embassy in Moscow, and announced that it had suspended all operations at the embassy in Minsk, Belarus.
With global pressure growing, the U.N. General Assembly said it would hold a rare emergency special session Monday with all 193 member states. U.S. Ambassador to the U.N. Linda Thomas-Greenfield said she hoped to have the body vote on a resolution to condemn Russia's actions as early as Wednesday.
Recommended
French President Emmanuel Macron, for his part, held separate phone calls with his Russian and Ukrainian counterparts Monday in a bid to stop the bloodshed.
Macron spoke to Ukrainian President Volodymyr Zelenskyy "several" times and also had an hour-and-a-half long phone call with Putin, whom he urged to "end the Russian offensive against Ukraine," Macron's office said.Russia's advance slowed
Zelenskyy has said he doubted the talks with Russia would produce results.
But his country's forces have slowed Russia's advance and still hold the capital, Kyiv, as well as Kharkiv, near the Russian border, and other key cities where there has been heavy fighting.
"The bulk of Putin's ground forces remain more than 30 km [18 miles] to the north of Kyiv," Britain's Ministry of Defense said in a tweet Monday morning. "Logistical failures and staunch Ukrainian resistance continue to frustrate the Russian advance."
With the operation moving slower than anticipated, Russia was bringing in more troops, weapons and equipment, according to NATO Secretary General Jens Stoltenberg.
"They underestimated the resistance they were going to meet and that's why they're making less progress," Stoltenberg told NBC News in an interview in Brussels Monday morning.
He added that there was "a new wave coming in from Russia and from Belarus" with heavy armor and artillery.
In Ukraine's southeast, officials confirmed that Russian forces had taken control of the city of Berdyansk as they made their way along the coast toward Mariupol, a key port city considered a prime Russian target.https://iframe.nbcnews.com/ucnvEyd?_showcaption=true&app=1
In a video statement released early Monday, Zelenskyy hailed Ukraine's military and said that 4,500 Russian troops had been killed in the conflict so far.
NBC News has not verified the number of those killed on either side.
Armed with government-issued machine guns, homemade Molotov cocktails and shovels to build barricades, civilians have helped to reinforce their army's desperate but for now effective resistance. They will soon be joined by prisoners with combat experience who would now be released, Zelenskyy added.
He also appealed to the E.U. to "accept Ukraine immediately."
Zelenskyy and Western officials have said Putin intends to remove Ukraine's pro-Western government and possibly replace it with a Moscow-friendly regime, restoring influence as the Kremlin moves to upend the post-Cold War order on the continent.https://cd514d97a8bc6f7d0b25db45643fc26e.safeframe.googlesyndication.com/safeframe/1-0-38/html/container.html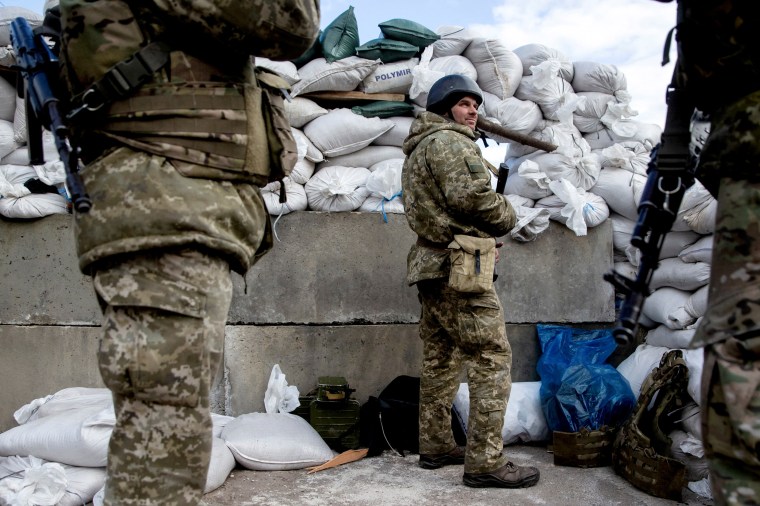 The conflict has left Europe facing its gravest security crisis in decades.
Putin made that even clearer Sunday when he issued a directive to increase the readiness of Russia's nuclear deterrent forces, citing "aggressive statements" by NATO and the tough financial sanctions imposed by the U.S., Europe and others.
Russia, like NATO and the U.S., has thousands of nuclear warheads in its arsenal.
Stoltenberg, branded the move "reckless and dangerous."
"There's no reason for that. NATO is no threat to Russia," he said.
Although NATO moved to increase its presence in Eastern Europe in the wake of the Ukraine invasion, he repeated that it had no intention of becoming involved in the conflict itself.
"We have a responsibility to make sure that this doesn't spiral out of control," he said. "That will be extremely dangerous."
Josh Lederman is an NBC News correspondent.