NASA Astronaut Jessica Watkins Makes History as First Black Woman on International Space Station Mission
1 min read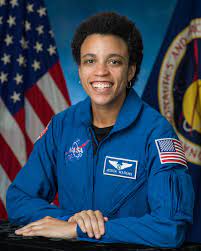 By Shafiq Najib
Jessica Watkins has become the first Black woman to depart for an extended mission at the International Space Station.
The spaceflight made history on Wednesday as it launched Watkins and three other astronauts into space from the Kennedy Space Center to embark on a long-duration space mission. 
Speaking to NPR prior to her assignment, Watkins, who is also reportedly the fifth Black woman to ever travel to space, said of her accomplishment, "I think it really is just a tribute to the legacy of the Black women astronauts that have come before me, as well as to the exciting future ahead."
As part of the fourth seat on Crew Dragon for Space X's Crew-4 mission, Watkins joins the International Space Crew to conduct scientific research, station maintenance, training, and more over a period of several months orbiting the earth via the spacecraft.
NASA's mission also includes two other NASA astronauts — Robert Hines and Kjell Lindgren — as well as European Space Agency astronaut Samantha Cristoforetti. The group rocketed into space around 4 a.m. ET on Wednesday from Launch Complex 39A at NASA's Kennedy Space Center in Florida.
Watkins' history-making venture after Victor Glover's successful journey via SpaceX's Crew-2 mission as the first Black astronaut to ever live on the station. (He was not the first Black astronaut aboard the station, but those before him have only made brief stays, according to The New York Times.