A Florida high school paused distribution of its yearbooks over photos of students protesting the state's 'Don't Say Gay' bill. Then, students fought back.
3 min read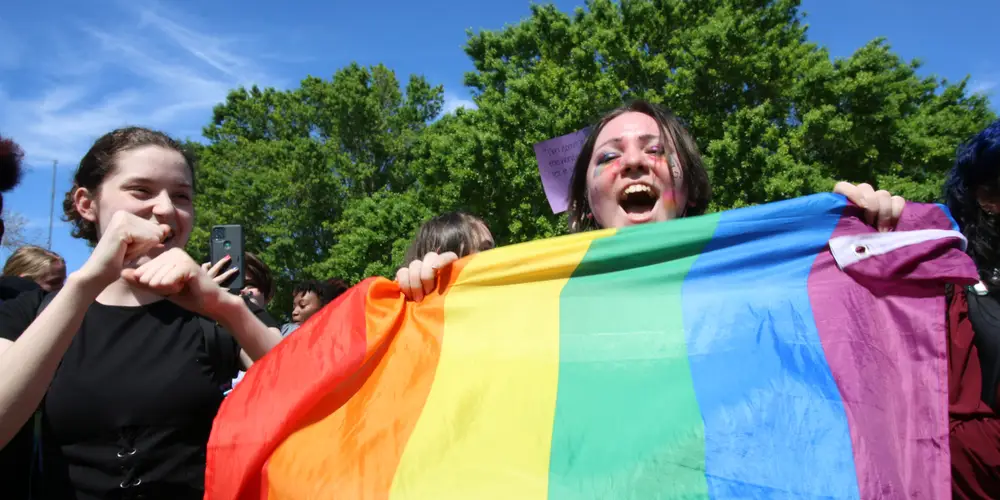 by Erin Snodgrass 
The Lyman High School yearbook students think of themselves first and foremost as journalists.
"We simply document whatever takes place at school," Skye Tiedemann, the co-editor in chief of the school's yearbook, told Insider.
So when students at the Central Florida school staged a walkout earlier this year protesting the state's controversial Parental Rights in Education bill — dubbed the "Don't Say Gay bill" by its critics — Tiedemann and her co-editor, Ella Snyder, didn't think twice about including photos from the march in their yearbook. 
The legislation, which was signed into law in March, forbids discussion of sexual orientation and gender identity in Kindergarten through third-grade classrooms throughout the state. 
Lyman High School's yearbook included a half-page spread featuring photos of students waving Pride flags and holding signs that say "'Love is Love."
But when the students proudly distributed a final copy of the yearbook to their principal — after hundreds of books had already been printed — Tiedemann said the troubles began.
"Interviewing these students, it was just such a positive event," Snyder told Insider. "We never thought it would need to be censored."
In an email shared with Insider, Lyman High School Principal Michael Hunter told parents the distribution of the yearbook, which was scheduled to start on Monday, May 9, would have to be delayed. The protest photos and captions in question depict a non-school or district-sponsored event. Thus their inclusion in the school-sponsored yearbook would fail to follow school board policy, Michael Lawrence, a spokesperson for Seminole County Public Schools told Insider.
Lawrence said there is a proofing stage in the publication process wherein the school's administration reviews the yearbook prior to print. "Unfortunately," however, the administration missed this "potential issue" before the school's entire yearbook order was printed.
When the Lyman administration sent the spread up the ladder for review, the district ultimately determined that "if not remedied," the pages featuring protest content would not be in compliance with the school board's policy and could not be shared.
Danielle Pomeranz, a teacher at Lyman High School and the yearbook's advisor, told Insider that she was asked to look into several possible remedies, including reprinting the entire book without the problem pages, which would have cost $45,000 and pushed distribution back by weeks.
Eventually, the administration and district settled on a different solution: They would cover the "Don't Say Gay" content with large stickers in each book, essentially erasing any proof of its existence. 
The students were gutted.
"We didn't think we did anything wrong. We just documented what happened at our school," Tiedemann said. "We took offense for our LGBTQ+ community, too. We felt like covering and censoring what they were protesting was silencing them."
The district spokesperson said the primary issue was not the photos' content or the topic of the protest, but the inclusion of a non-school-sanctioned or district-sponsored event and its portrayal on the page. Had the photos been caught earlier, Lawrence said some simple editing likely could have made the spread compliant.
But Tiedemann and Pomeranz both told Insider that two other high schools in Seminole County school district also printed yearbooks that included coverage of their respective "Don't Say Gay" walkouts, and neither one mentioned in the book that the events were not school-sponsored. 
Tiedemann said she viewed the other schools' spreads and the only major difference she could find was that Lyman's photos included prominent Pride flags. Pomeranz told Insider that she was in touch with both of the other schools' yearbook advisors who said they were given clearance by their administrations to distribute.
"It felt very unfair to us," Pomeranz said.
But instead of feeling defeated, Pomeranz said her students began organizing. They started the social media hashtag #stopthestickers to spread awareness and garnered support from Rep. Carlos G. Smith, a Florida Democrat who is the state's first LGBTQ Latino legislator. Tiedemann said they also started a petition, which racked up hundreds of signatures for their cause.
Following the deluge of community outcry, the school board fought back against the superintendent's characterization of the problem and its proposed solution. Chairwoman Amy Pennock eventually offered to pay out of pocket for the purchase of hundreds of smaller stickers that could be placed at the bottom of the yearbook page to denote that the event being depicted was not school-sponsored.