NYC marks Notorious B.I.G.'s 50th birthday
4 min read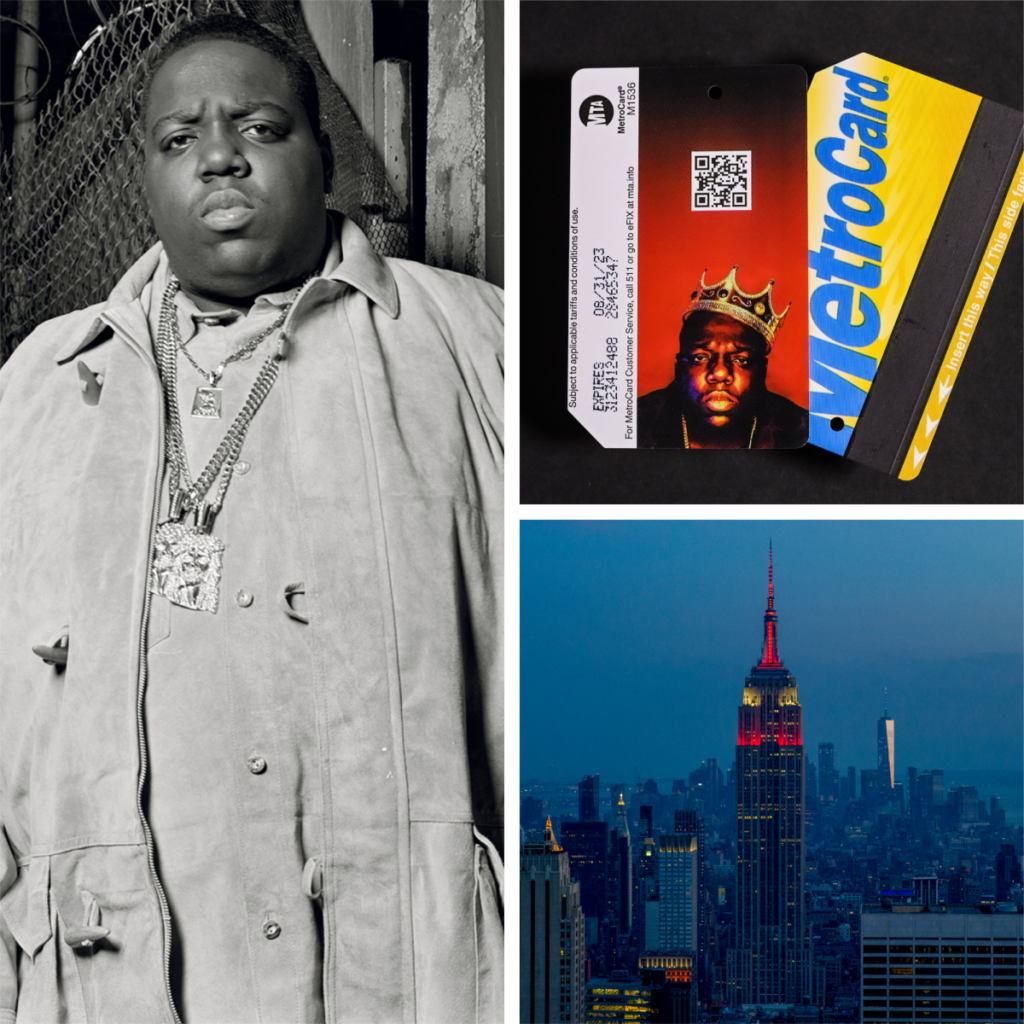 May 21 marks what would have been the 50th birthday of legendary Brooklyn rapper Christoper Wallace, known as the Notorious B.I.G. and Biggie Smalls/Biggie.
Born in Brooklyn, Wallace had a career spanning five years on Sean "Puffy" Combs' label Bad Boy Records in the 1990s. Wallace solidified himself in music history with a catalog of chart-topping hits including "Big Poppa," "Hypnotize," and "One More Chance." He released two studio albums during his career, Ready to Die in 1994 and Life After Death in 1997.
Wallace's life was cut short on March 9, 1997 when he was murdered in a drive-by shooting in Los Angeles. His killer has never been identified.
Music industry critics considered Wallace "the greatest rapper of all time." He was inducted in the Rock and Roll Hall of Fame in 2020.
Several commemorations are happening around the city to celebrated Wallace's milestone birthday and celebrating his life.
Mayor Eric Adams honors Notorious B.I.G. at City Hall
This week at City Hall Mayor Eric Adams proclaimed May 21 as "Big Day" during a press conference. Wallace's son C.J., daughter T'yanna were on had to receive the proclamation.
"We just want to spend the day to lift up an icon in New York City and music," Adams said. "We know that he's one of the greatest rappers that has ever lived and his music continues to inspire so many who listen to it and play it. Here, back in the day, you hated to say the 5-0. But we're happy to say 5-0 today for brother Biggie Smalls and what he represent."
C.J. thanked officials for the honor and said it means a lot to the family.
"We wouldn't be able to be here without you guys and just everything," he said. "Continuing to keep the legacy alive. I wouldn't be doing anything else with my life. Ever since I was 14, 15, when I really had to realize how important this family legacy was, I made it my life."
MTA celebrates Biggie with commemorative MetroCard
The MTAm in partnership with Rhino Entertainment, announced that MetroCard vending machines at four Brooklyn subway stations will be loaded with limited edition cards honoring Wallace.
MetroCards featuring a portrait of Notorious B.I.G on the reverse side will be available for purchase starting 12:01am on Saturday, May 21 on a first come, first serve basis. Cards will solely be available at the vending machines that accept all forms of payment, including credit, debit and cash at the following stations in Central Brooklyn: Lafayette Ave., Clinton-Washington Ave. (C line), Clinton-Washington Ave (G line) and Atlantic Ave – Barclays Ctr.
Empire State Building honors Notorious B.I.G.
The Empire State Building (ESB) is marking 50th birthday of The Notorious B.I.G. (Biggie) – aka Christopher Wallace – with celebrations that will include a tower lighting and ceremony with participation from his friends and family.
On May 21 the Empire State Building will shine its world-famous tower lights in a dynamic red and white flashing light show, with a crown and the number "50" rotating in the building's mast. The building will host a special lighting ceremony with his children T'yanna Wallace and Christopher Wallace, Jr., his mother Ms. Voletta Wallace, and close friends James Lloyd (Lil' Cease), Kimberly Denise Jones (Lil' Kim), Faith Evans, and Jason Terrance Phillips (Jadakiss) on May 20.
The Empire State Building Observatory Experience will feature a life-size, photorealistic avatar of B.I.G. on the 80th Floor on Friday, May 20 and Saturday, May 21. The avatar photobooth will be available for guest viewing and photographs from 4 p.m.–9 p.m. each night.
On Friday, May 20 and Saturday, May 21, from 4 p.m. to 9 p.m., the Empire State Building will host a pop-up cart to feature exclusive Notorious B.I.G. merch sold only at the Observatory. The pop-up will offer limited-edition hats, t-shirts, and sweatshirts. The cart will also allow an exclusive pre-order opportunity for the Notorious B.I.G. 8-LP Box Set – slated for release on June 10 – and Biggie's 11x platinum album Life After Death cassette for purchase.
Lil' Kim hosts star-studded gala honoring Notorious B.I.G.
Rapper Lil' Kim is hosting a star-studded dinner gala on Friday in honor if his 50th birthday.
The event is taking place at Guastavino's in Manhattan and features a lineup of industry titans and family members of the late rapper. Legendary performers include Fabolous, Fat Joe, Lil' Cease Junior M.A.F.I.A, CJ Wallace, Dave East, Jada Kiss, Faith Evans, 112, Bone Thugs, French Montana, Beanie Siegel, Freeway, and more. The tribute of performances features and playlist of Biggie's greatest hits.
Lincoln Center hosts orchestral tribute to Notorious B.I.G.
Lincoln Center, in partnership with Bad Boy / Atlantic / Rhino Records, is hosting an orchestral tribute to The Notorious B.I.G. on June 10.
The creative black-tie event will feature music arranged and conducted by Miguel Atwood-Ferguson, with appearances by The Originals and several special guests. The event will be free to the public, and as a part of their celebration of Black Music Month, Amazon Music will livestream the event exclusively on their channel on Twitch.
Exclusive Biggie Smalls merch—including limited-edition t-shirts commemorating the livestream—will also be available for pre-order at amazon.com/biggie and in the Amazon Music app.
Barclays Center pays tribute to Biggie
The Barclays Center will honor the legendary the Notorious B.I.G. by featuring a video montage of his classic records on the massive oculus display above the arena's entrance to celebrate his 50th birthday.
The arena is only a few subway stops away from Bedford-Stuyvesant, the neighborhood where Biggie Smalls grew up.