DELIVERING ON AMERICA'S PROMISE
2 min read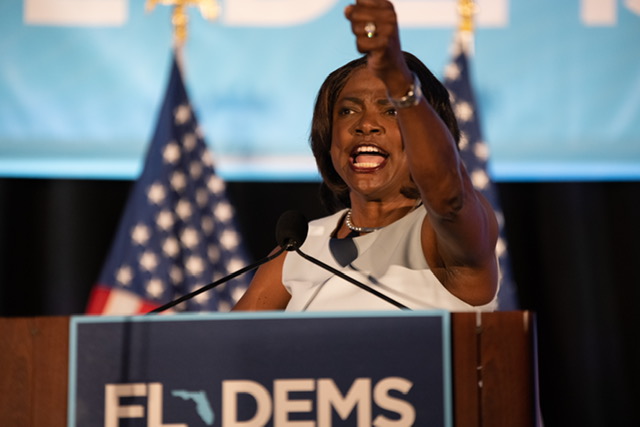 Val Demings rallies Florida Democrats
At the top of the November ballot, US Senate candidate Val Demings leads energized Florida Democrats to the November polls. She told them, "Democrats, we are the defenders of democracy. Drum majors for justice." 
By Sheila James
Tampa, Fl—The contrast was striking. Florida Republicans and Democrats held conferences at the adjoining Marriot Hotel in Tampa. Led by First Lady Casey DeSantis, the conservative "Moms for Liberty" pressed issues that drew hundreds of protestors chanting "Racist, sexist, anti-gay Ron DeSantis go away." Across the street, over 1300 Democrats held their Florida Blue convention, ramping up for the August primary and pivotal November 8 general election. The event provided training and showcased candidates from around the state.
Congresswoman Val Demings, who is running for the US Senate against incumbent Republican Marco Rubio addressed the capacity crowd. "Democrats, fighting for justice is hard, fighting to protect constitutional rights is hard, fighting against gun violence is hard, fighting to protect voting rights is hard, fighting for equality is hard, fighting to hold America to its promise is hard, but I am honored to join you on this journey toward a more perfect union," she said.
Demings continues to criticize Rubio for his opposition to a ban on assault weapons and the suppression of women's rights. She told the audience, "Women are not going back. Marco Rubio wants to criminalize doctors and ban abortions. But everything that you care about and everything that I care about is under attack."
Democrats are so angered by the demise of abortion rights and resistance to a ban on assault weapons their projected election turnout has jumped to nearly 80%. It's not only high for an off presidential election, but it also almost doubles the Republican turnout. Rubio is on the wrong side of abortion and gun issues but his refusal to condemn the January 6 insurrection only adds to his political woes. He has done very little campaigning and complaints continue concerning his absence during a time of government crisis. It only strengthens Val Demings momentum as she speaks to powerful organizations like the American Federation of Teachers.
AFT Secretary-Treasurer Fedrick Ingram says Demings would provide needed change. "Val is the real deal. She understands our community, our state and she will fight for our children and our future. More importantly, she is not afraid to stand on her convictions to better serve us."