Tyler Perry's 'A Jazzman's Blues' has heart and soul
3 min read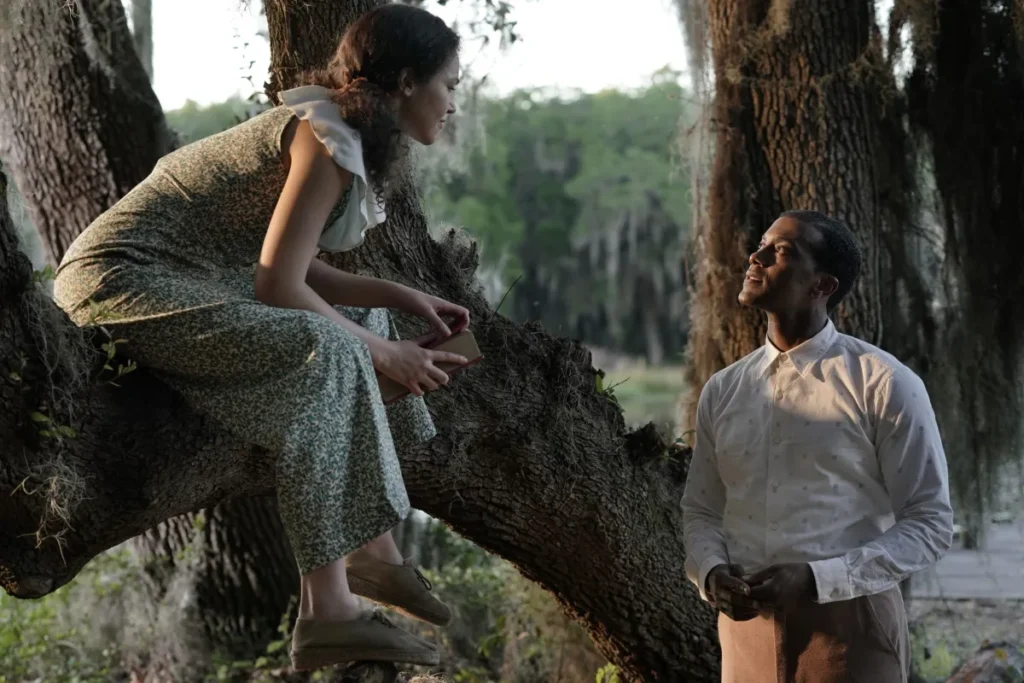 Set in the late 1930s into the 1940s, the story of "A Jazzman's Blues" unfolds through a series of letters exchanged between two lovers, Bayou (Joshua Boon) and Leanne (Solea Pfeiffer), doomed from the moment they meet in a small town in the deep South. Bayou and his family are gifted blues singers and jazz musicians but live in poverty, with Bayou's mother, Hattie Mae (Amirah Vann), running a clothes-washing business. When Bayou's father Buster (E. Roger Mitchell) and brother Willie (Austin Scott)—who both ridicule a more talented Bayou—suddenly leave for Chicago to try their luck in the blues club circuit, the road gets bumpy. Add to the boiling pot, Leanne's mother finds out about her and Bayou and whisks Leanne away to a better life. Leanne is born light-skinned, and her mother has plans for her. Bayou enlists to join the war, and though he and Leanne keep writing letters to each other, they never receive them because Leanne's mother intervenes. Post-war, when Bayou returns home, he discovers Leanne has married the sheriff's brother—who is to be mayor of the town. Passions re-ignite, and Bayou and Leanne revive their forbidden romance. Willie returns home with his talent manager, but all is not well. As tensions between the brothers grow and the manager discovers Bayou's beautiful singing voice, Leanne's mother finds out about the clandestine romance. Bayou escapes with Willie and his manager to Chicago, saved from being lynched by the sheriff and his racist mob. In a reversal of fortunes, Bayou's singing voice is discovered, and he becomes the star attraction at a swanky jazz and blues club in Chicago, while Willie is left in the shadows. When Bayou decides to go back home to see his mother and hopes to see Leanne again, a secret is exposed, putting Bayou's life in danger and ultimately killing him. 
For Tyler Perry, "A Jazzman's Blues" is a personal and all-heart creation. Speaking to the audience at the special screening of the film at the Netflix Tudum Theater in Hollywood last weekend, Perry said: "Twenty-seven years ago, I snuck in to see the August Wilson play, 'Two Trains Running,' mid-way, because I couldn't afford to go to the theater. Completely blown away by the second half because I didn't see the first half, I met Wilson after the play, who encouraged me to write what I felt from my heart, as I was unsure about my writing ability. So as I sat down (in a public space) and began to write, I heard someone say, 'my name is Bayou'—and that's where 'A Jazzman's Blues' was born."
You can sense Tyler Perry's heart and passion written throughout the film. As a director, Perry extracts bravura performances from the cast, especially Joshua Boon and Amirah Vann. Special mention to Milauna Jackson, who plays Sissy, Bayou's childhood friend. With lush visuals, Perry transports you back to '40s America, where racism was the fabric of society and molded and shaped African American lives. Amplifying the '40s era of jazz and blues music and dance, Perry gives the film its soul and is the most substantial aspect of the movie. A New Orleans native, Perry is deeply rooted in Black Southern culture, and he creates a vivid palette of love, yearning, ecstasy, and pain—all tied to music. The soundtrack vibrates and includes performances of jazz standards like "Rocks in My Bed," "Pallet on the Floor," and "It Don't Mean A Thing (If It Ain't Got That Swing)." These old favorites are synced with a new song from Terence Blanchard, "Paper Airplanes," which is sung as a jazz ballad by Bayou in the film, and then at the end, during the credits, as a deep soul-stirring tune sung by the brilliant Toronto-based singer Ruth B. Both are intricately and cleverly mixed by Blanchard, who also arranges the jazz standards in the film.
Although the narrative has a few impediments and is a tad long at 127 minutes, this is a Tyler Perry film long-in-the-making, a young man's first ever story he wrote. This young man's spirit came alive again as he mingled and connected with every guest, from his heart, at the pre-screening reception of his film—finally made for the screen 27 years later.