AISHA BOWE IS THE FIRST BLACK WOMAN TO GO TO SPACE WITH JEFF BEZOS' SPACEFLIGHT COMPANY, BLUE ORIGIN
3 min read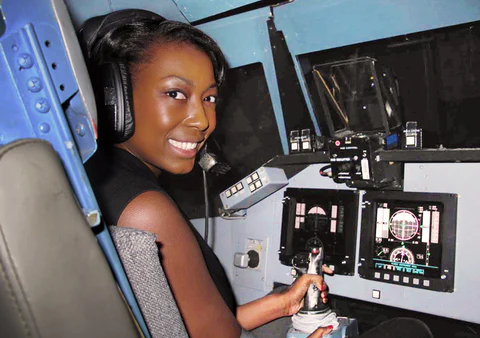 by BOTWC Staff
Aisha Bowe is the first Black Woman to Go to Space With Jeff Bezos
Aisha Bowe, former NASA rocket scientist and founder of tech company STEMBoard, is officially living out her dream!
Bowe grew up in Ann Arbor, Michigan with a deep love for math and science. In high school, her counselor suggested she pursue cosmetology, but she discovered her true passion while taking mathematics courses at Washtenaw Community College. She eventually transferred to the University of Michigan, earning a Bachelor's in Aerospace Engineering and a Master's in Space Systems Engineering before landing a job with NASA as a rocket scientist! During this time, a lot of her work was focused on developing methods to maintain safe separation of air traffic and optimize fuel consumption within automated systems.
Her achievements are widely known; she's been featured in a number of publications and talk shows and was recently featured in the documentary, In Her Element, which is now available on various streaming networks. Bowe is a woman who wears many hats; she's a part of the National Society of Black Engineers, the American Institute of Aeronautics and Astronautics, and she currently sits on the University of Michigan Aerospace Department Industry Advisory Board.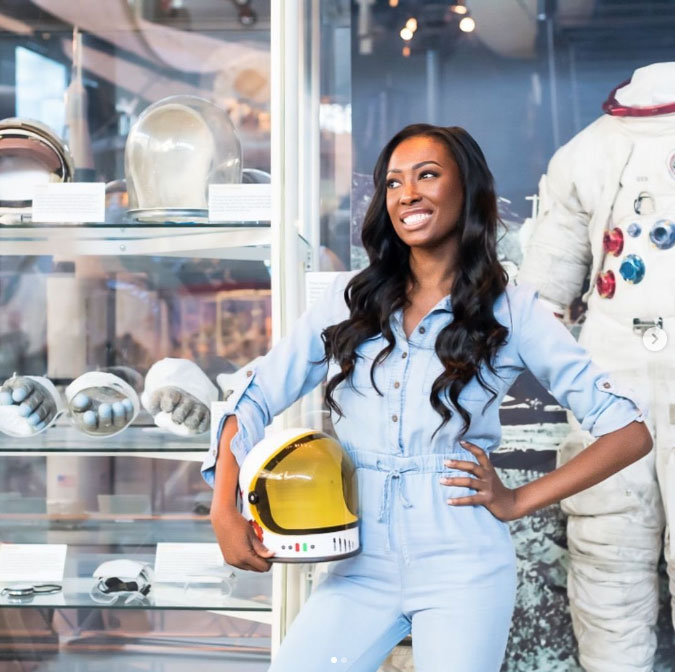 Now she's going to infinity and beyond! In October, we learned that the New Shepard, a reusable suborbital rocket system named after the first American to go to space, astronaut Alan Shepard, had a future flight scheduled. Aisha Bowe has been confirmed as the first Black woman to fly with Jeff Bezos' private spaceflight company, Blue Origin, who developed the New Shepard. She's now also the sixth Black woman to cross the internationally recognized boundary of space, the Kármán line. Her flight was announced 30 years after astronaut Mae Jemison, the first Black woman to travel to space in 1992. There are only four other Black women who have the honor of saying they've been to space: NASA astronauts Stephanie Wilson, Joan Higginbotham, Jessica Watkins, and Dr. Sian Proctor.
Bowe spoke on this achievement saying, "Today's historic announcement about my flight is both surreal and emotional. I'm thrilled, I'm excited, and I know that this experience will change my life forever. I've dedicated my life to helping people break stereotypes. I am honored to follow in the footsteps of these pioneers as we begin to realize the potential of public access to space."
Aisha Bowe's story is inspirational, and she continues to write her success story with her award-winning tech company, STEMBoard. The company has been ranked on the Inc. 5000 list of fastest-growing companies in America and has even landed Bowe on Inc.'s fifth annual Female Founders 100 list. For 8 years, STEMBoard has been creating technologies that help advance our nation and its citizens. She's also raised almost $2 million in venture capital to fund the kit that's being used by over 5,000 students in 10 countries: LINGO. Lingo is a hands-on, self-paced coding kit that enables students to learn how to code at home and is sold on Amazon, Target and Walmart. Through all her work, Bowe intends to help the youth pursue careers in STEM. 
About Author