Hallmark's New Mahogany Movies Prioritize Diverse Storytelling
3 min read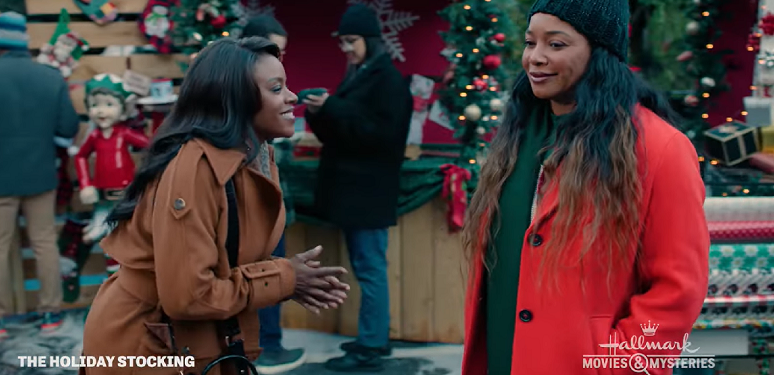 By: NCTA
Hallmark Media's Mahogany brand debuted its first holiday movie last weekend, "The Holiday Stocking," and more movies under the network's new and inclusive programming brand will follow in 2023. "The Holiday Stocking" is also part of "Countdown to Christmas," the network's expansive and famed rollout of holiday movies.

As family and friends gather around screens to enjoy holiday movie-watching parties and traditions over the next few weeks, Hallmark Media has continued to step up its initiatives to elevate diverse voices and perspectives on screen and behind the scenes.
A New Programming Line Launches
The network announced efforts earlier this year to expand Hallmark Media's iconic Mahogany greeting cards brand, which features the Black community, into storytelling on screen.
The programming initiative kicked off in August with the first Mahogany movie, "Unthinkably Good Things," followed by "To Her, With Love" later in the fall, and "The Holiday Stocking" at the start of the holiday season.
"The launch of Mahogany marks a seminal moment in the evolution of Hallmark content, with authentic stories about friendship, family, community, and love through the unique lens of Black women," said Hallmark Media President & CEO Wonya Lucas at the Television Critics Association (TCA) summer press tour, hosted by CTAM. 
The Ingredients Behind Mahogany Movies
Lucas also said at TCA that Hallmark's movies all share the same formula of "love in all its many forms. We believe that all humans deserve and are indeed worthy of love and seeing themselves in loving relationships through our storytelling."

And that extends to the Mahogany movies, with a focus on Black families and culture.
Mahogany's first movie, "Unthinkably Good Things," centers around Black women, friendships, and family. Critics at TCA remarked that viewing the film felt as though they were watching people's real lives on TV.
Terri Vaughn, film director for "Unthinkably Good Things," explained that in Mahogany movies they have introduced dialogue and interactions that reflect "how we move and how we flow and how we talk, how we laugh, but still making sure we are honoring the [Hallmark] brand that has been around and very successful for so many years."
"The Holiday Stocking" also focuses on the bond between Black women, in this case sisters, and childhood nostalgia, which is perfect for this time of year.
In an interview with ET, lead actress Tamala Jones expressed that the joy of "The Holiday Stocking" for her is that "It is the average Black family story," which she appreciated. "Black people, brown people, people of all identities … We all have a cultural background and ours just isn't slavery. We've seen those movies over and over and over again, and I appreciate the artistry of those movies. But that's not just our culture." 
She continued, "And I hope [this movie] shows that none of the things you fight about really matter in life. What matters? Your family and the closeness. So I'm just happy that we get to tell this."