Civil Rights Lawyer Ben Crump Joins Black Brokers' Bias Claim Against Morgan Stanley
3 min read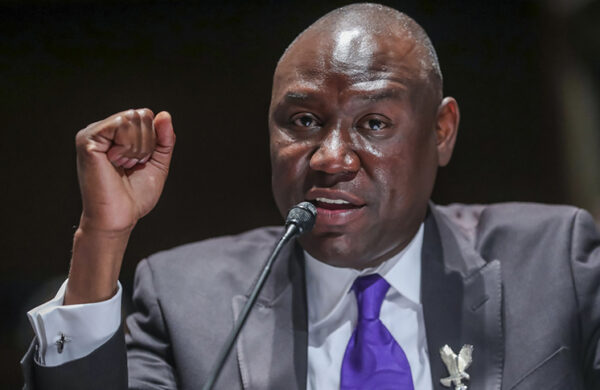 by Miriam Rozen
Ben Crump, the well-known civil rights lawyer, has joined the legal team representing Black ex-Morgan Stanley brokers who have claimed the wirehouse discriminated against them with its account distribution and teaming policies.
Referred by some as "Black America's attorney general," Crump's name has become synonymous with advocacy against police brutality and racial discrimination. He represented the families of Black victims of excessive use of force by police officers and vigilantes claiming "stand-your-ground" defenses, including Tyre Nichols in Tennessee, Ahmaud Arbery in Georgia, Breonna Taylor in Kentucky and George Floyd in Minnesota. Crump said he plans to use the Morgan Stanley case to draw attention to inequality in financial services.
"We vow to fight racism and discrimination wherever it rears its ugly head," Crump told AdvisorHub in an interview. "People mostly know us for fighting in these high-profile police cases against their discriminatory and racist conduct, but it's equally important to fight these financial institutions who engage in discriminatory practices."
A federal court in New York has allowed him, as an out-of-state lawyer, to represent the three plaintiffs, including Kathy Frazier, a 31-year industry veteran, who is now registered at J.P. Morgan Advisors and initially filed the lawsuit in 2015. Frazier was later joined by ex Morgan Stanley brokers Yared Abraham, and O. Emmanuel Adepoju-Grace Morgan.
Crump will be joining a team of lawyers that includes Suzanne Bish, a partner in the Chicago-based firm Stowell & Friedman, which is known for winning a $160 million settlement from Merrill Lynch in 2013.
Their lawsuit against Morgan Stanley alleges that African Americans are underrepresented in the firm's brokerage and management ranks and earn substantially less than non-African American counterparts because of its "systemic, intentional race discrimination and from policies and practices that serve no reasonable business purpose yet have a disparate impact on African Americans and segregate [its] workforce by race."
The case notably challenges Morgan Stanley's private arbitration forum, where it requires employees to litigate disputes, as well as its use of non-disclosure agreements in settlements, Crump said.
"Morgan Stanley's track record reflects a racial bias corporate culture that has few Black financial advisors, pays them less, treats them badly, and fires them first and fires them quickly too," Crump said. "We have to try to expose that to the world, both in and outside the courtroom."
Morgan Stanley has denied the allegations in its answer to the lawsuit. A spokesperson declined to comment for this story.
The wirehouse previously persuaded U.S. Second Circuit Court Judge Richard J. Sullivan, a Trump appointee, who chose to continue to preside over the Frazier trial court-case even after he moved to the appellate division, to compel three other ex-Morgan Stanley brokers, who were also named plaintiffs on the lawsuit, to arbitrate their claims.
Morgan Stanley, as also true for the other Wall Street firms, has been a frequent target of discrimination suits. Among retail brokers and financial advisors, roughly 3% are Black, according to a study presented in September 2022 at the Securities Industry Financial Markets Association's "Equity, Diversity & Inclusion Leadership Summit."
In May 2021, Marilyn Booker, the wirehouse's former chief diversity officer, who pursued race-discrimination claims, settled with the wirehouse for undisclosed terms.
The plaintiffs have not specified damages in this case. Crump hopes that Frazier and the other advisors' claims will ultimately lead to the court requiring Morgan Stanley to provide, as Merrill and Wells have previously agreed to do, "programmatic relief," including barring NDAs and adjusting how accounts are redistributed.
Eventually, he expects when the lawsuit achieves more equity for Black brokers its success will help narrow the disparities between white- and Black-owned assets, Crump said.
"We look at the long game of trying to close this wealth gap," Crump said. By making broker rosters more diverse, more opportunities will arise to diversify Morgan Stanley's customer base.
About Author