New Washington Commanders co-owner Magic Johnson suggests name change could be on the table
2 min read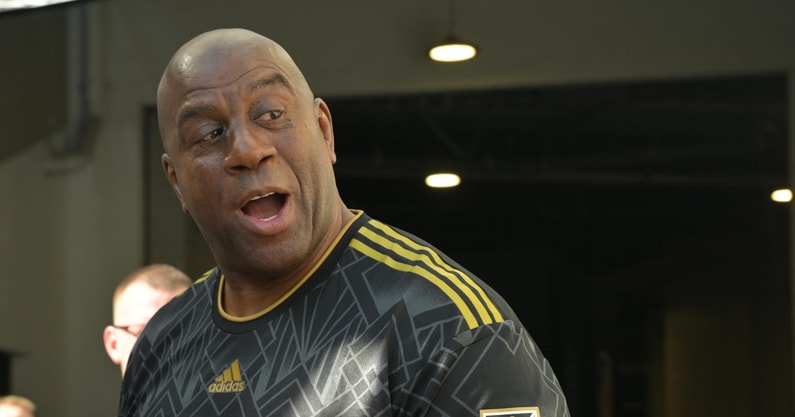 Magic Johnson, one of the new co-owners of the Washington Commanders, indicated Friday that the team could be in line for a name change.
Johnson, who also owns a chunk of the Los Angeles Dodgers, sat down with the Today show Friday morning to discuss the Commanders' sale. On Thursday, the NFL owners unanimously approved the ownership of the team going from Dan Snyder to a group led by Josh Harris. Johnson is part of the Harris group.
The team sold for a record $6.05 billion.
"I think everything is on the table, especially after this year," Magic Johnson said of a potential name change. "We'll see where we are. I can't say that right now."
Magic Johnson has heard the critics about Commanders name
Snyder bought the Washington franchise in 1999 for $800 million. And when he purchased the team, it was known as the Redskins. Fans protested in recent years that the name was a slur against Native Americans. Finally, Snyder changed the team name. He first removed Redskins and let the team be known, simply, as the Washington Football Team. This was in the summer of 2020.
Finally, Snyder renamed the team as the Commanders. The franchise started in the league in 1932 as the Boston Braves. The name came from a desire to keep things consistent among the city's sports teams. The baseball team also was the Boston Braves. And the baseball and football teams shared the same stadium. The next season, the team evolved into the Boston Redskins. By 1937, the Redskins moved to Washington, D.C.
Magic Johnson joined the Harris group somewhat later in the purchasing process. He also was in the ownership group when Harris tried to buy the Denver Broncos last year. Harris already is majority owner of the Philadelphia 76ers in the NBA and the New Jersey Devils in the NFL.
Johnson's post basketball career has made him an even richer man. He began investing in sports franchises more than a decade ago. That's why he owns stakes in the Dodgers and the WNBA's LA Sparks as well as the Los Angeles franchise in MLS.
About Author