VP Kamala Harris speaks in Jacksonville, voices opposition to state's new Black history standards
4 min read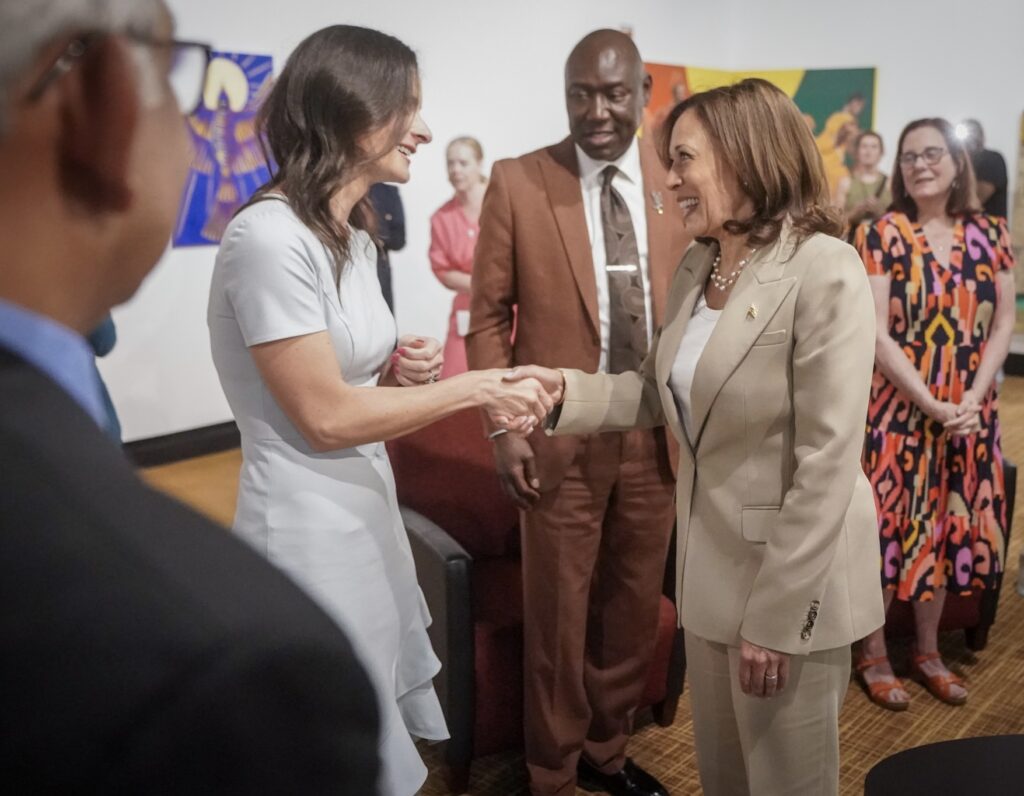 By: First Coast News
Her visit comes after a decision Wednesday by the state education officials to change what students are taught about African American history.
JACKSONVILLE, Fla. — On Friday, Vice President Kamala Harris touched down in Jacksonville to deliver remarks on the fight to protect fundamental freedoms.
Harris delivered remarks opposing the state's new Black history standards at 3:45 p.m. at the Ritz Theater & Museum in the LaVilla neighborhood of Jacksonville. 
The Florida Times-Union reports that Harris met with the following local leaders, teachers and civil rights activists ahead of her speech
State Rep. Angie Nixon (D-FL-01)
Terrie Brady, President, Duval Teachers United
Ben Crump, Civil Rights Attorney
Paul Barnes, Teacher, Samuel W. Wolfson High School
Jennifer Jenkins, Brevard School Board Member (District 3)
Jasmine Burney-Clark, Consulting Director, Equal Ground
Sam Jenkins, Middle School History Teacher, DeLaura Middle School
Parvez Ahmed, Chief of Diversity and Inclusion, Office of the Mayor, City of Jacksonville
Kelly McBride Valdez, Self-employed Global Development Consultant
Her visit comes after a decision Wednesday by the state education officials to change what students are taught about African American history.
The Florida Board of Education passed new standards regarding the teaching of Black history in public schools. According to these standards, students will be taught that slaves "developed skills which, in some instances, could be applied for their personal benefit."
"There is no higher calling than to protect our children from unwelcome influences and indoctrination," said Commissioner of Education Manny Diaz, Jr in a press release shortly after the new standards were passed. "The rules adopted today ensure that our kids can be kids while in the care of our schools. I thank Governor Ron DeSantis, the Legislature and the State Board of Education for their unwavering commitment to the health, wellbeing and safety of our students."
"l'll be on the ground in Florida tomorrow," Harris tweeted Thursday night. "We're fighting back against attempts to gaslight us, cover up our history, and rewrite the horrors of slavery. @POTUS and I will always stand up for fundamental freedoms, including the freedom to learn and teach America's full history."
lNAACP President & CEO Derrick Johnson also issued a statement earlier this week decrying the "step backward for educational justice in Florida."
"Today's actions by the Florida state government are an attempt to bring our country back to a 19th century America where Black life was not valued, nor our rights protected. It is imperative that we understand that the horrors of slavery and Jim Crow were a violation of human rights and represent the darkest period in American history. We refuse to go back. The NAACP has been fighting against malicious actors such as those within the DeSantis Administration for over a century, and we're prepared to continue that fight by any means necessary. Our children deserve nothing less than truth, justice, and the equity our ancestors shed blood, sweat, and tears for."
"This is a historic time in Jacksonville, Florida," said Darryl Whiting while waiting in line.

"It's just filled with history," said Rev. Aaron Flagg.

"I'm just glad to be here today to be a part of it, this is history today believe it or not," said Dr. Elmer Gregory.

Hundreds of people, powering through the afternoon heat for a chance to be a part of history, and see Vice President Kamala Harris on her first stop to LaVilla.
Despite the excitement, there was a sense of disappointment for many in line due to the reason for her visit – Florida's controversial new curriculum on slavery.

"It's just a sad occasion that she had to come here to support us in the truth of our history and our ancestors," said Flagg.

"There's no way people that were enslaved could've enjoyed an education that prepared them for life," said Gregory.

Gregory is hoping the vice president's words will encourage parents to learn more about what their children are learning in school.

"Parents need to teach children the correct history, so that when they do hear it in other places, they'll know the difference," said Gregory.

Duval County School board member Darryl Willie will be right back to work after hearing Harris's remarks.

"As far as Duval County goes, we're going to do everything we can to make sure we hit those standards, but we're going to do everything we can to make sure we're fighting to get even more of that history to our kids."
About Author