100-year-old Tuskegee Airman promoted to colonel
2 min read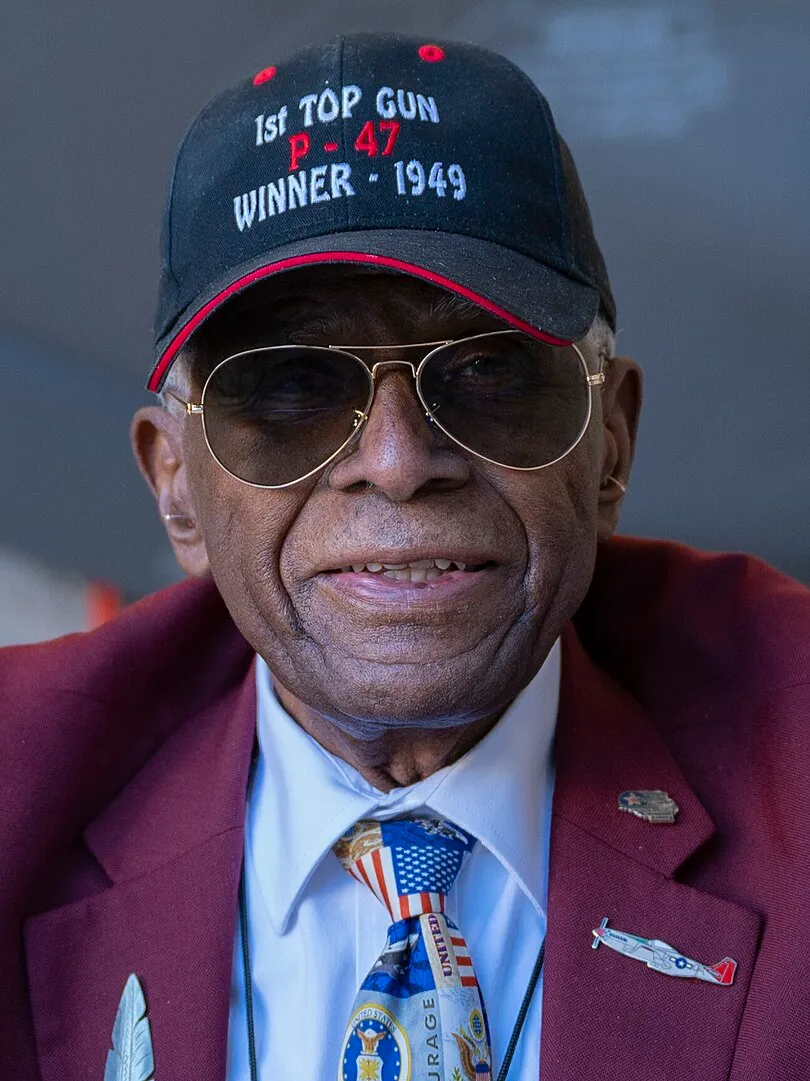 Tuskegee Airman James Harvey III was honorarily promoted to Colonel during halftime of the Air Force vs. Army game earlier this month before tens of thousands of spectators at Empower Field at Mile High in Denver, Colo.
Harvey, who turned 100 years of age in July, is among the few World War II Tuskegee Airmen still surviving today.
Wearing a crisp new service dress uniform provided by the Air & Space Forces Association, Harvey stood in the south endzone alongside the Chairman of the Joint Chiefs of Staff Gen. Charles Q. Brown Jr., Sen. Michael Bennett (D-Colo.), and Air Force Secretary Frank Kendall. His two daughters, Alysyn Green and Kathy Harvey, and his niece, Karen Jackson, pinned colonel on his shoulders.
"Because of his work breaking barriers, I can stand here today as the Chairman of the Joint Chiefs of Staff," said Gen. Charles Q. Brown, Jr., during the ceremony. Brown, the former Chief of Staff of the Air Force, was the first Black service Chief in U.S. history. He is only the second Black Chairman of the Joint Chiefs. "James, I want to thank you for your service. I want to thank you for breaking barriers, and it's my distinct honor to promote you to colonel today."
Following the pinning ceremony, two historic aircraft conducted a stadium flyover: a P-47 Thunderbolt, like those flown by Tuskegee Airmen from Harvey's 332nd Fighter Wing, which won the propeller-class segment of the first-ever Air Force gunnery meet in 1949, and a P-51 Mustang, flown by the Tuskegee Airmen during World War II.
"It was a magnificent honor to watch thousands of Airmen, Guardians, and Soldiers cheer on Colonel Harvey when our Chairman of the Joint Chiefs, Gen. C.Q. Brown, promoted him from being the Air Force's oldest lieutenant colonel to the newest colonel in the U.S. Air Force," said AFA's Executive Vice President Maj. Gen. Doug Raaberg, USAF (Ret.), who took part in the end-zone ceremony as a distinguished guest. "The Air & Space Forces Association is proud to 'issue' him a uniform fitting of his senior rank and stature as a Tuskegee Airman, combat fighter pilot, and leader."
Also present during the ceremony were the Chairman's wife, Sharene Brown, newly sworn-in Air Force Chief of Staff Gen. David Allvin, Gen. Mark Kelly, Commander at Air Combat Command, and Lt. Gen. Richard M. Clark, Superintendent of the U.S. Air Force Academy.
About Author