Medical Laboratory Services Coming Directly to Your Home
2 min read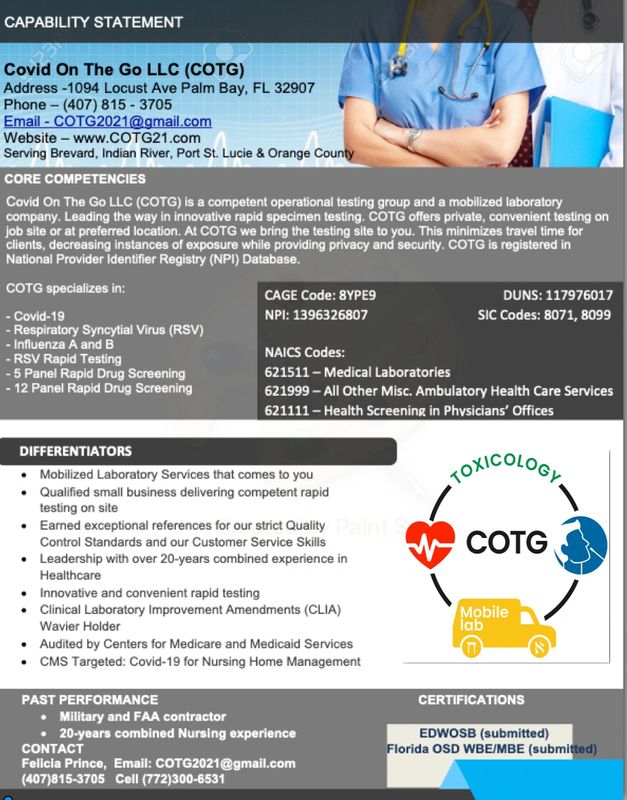 "COTG 2021 Mobile Laboratory is Booming in Brevard"
By Teri Jones
Need a flu shot, vaccination, blood test, lab work and don't have the time or transportation to go to the clinic or hospital? So, what do you do? Delay, delay, delay and sometimes get sick during the delaying process. There's a solution to trying to make time for necessary medical lab work that so many of us find difficult to make time for. This solution is serving all of Brevard County. Three innovative business women established a mobile laboratory this February that meets you wherever you need the services and gets you squared away without you having to jump in your car and drive 20 to 30 minutes just one-way. That's right! COTG 2021 LLC, also known as Competent Operational Testing Group, is a healthcare mobile laboratory testing service that will meet you, and test you anyplace that you choose; work, home, church or in a social setting/gathering.
Felicia Prince, Director; Shenielle Walker, Marketing Director; and Samanthia Johnson, Business Manager; have a combined 33 years of nursing and government contracting experience. These ladies pivoted from former professional careers during the onset of the COVID-19 pandemic to create COTG 2021, which initially provided immediate COVID-19 testing and vaccinations to elderly clients in their personal settings. Since their pivot, they have expanded to offer testing for Influenza A/B anticoagulant studies, HIV 1/2 and STD panels. All testing procedures are noninvasive. Methods of testing are oral, nasal swab, or urine collection that can be collected in any setting of the customer's choice. Drug toxicology for business settings is a new offering now being provided by COTG 2021. Within the near future, COTG 2021 will also offer vaccinations and complete blood work testing.
Walker exclaimed, "We are excited to have recently received our certification as a Minority Business Enterprise and Women Business Enterprise. We are partnered with Melbourne Housing Authority, ROSS program, SBA and Senior Life Magazine, plus we are active members of the Greater Palm Bay Chamber of Commerce and the US Women Chamber of Commerce!" Prince added, "Our combined nursing and government contracting experience has made us a mobile laboratory industry leader in Brevard County, Indian River County, Port St. Lucie and Orange County. Call or email us! We are here to personally serve you."
Mobile laboratory services offered by COTG 2021 can be accessed by calling (772) 300-6531 or (407) 815-3705, or by emailing any of the ladies at feliciaprince@cotg2021.com, sheniellewalker@cotg2021.org or smaanthiajohnson@cotg2021.org. Check out the website for more exciting information at www. COTG@21.com.
About Author