Mrs. Annetha Jones, Retired Principal and Author
10 min read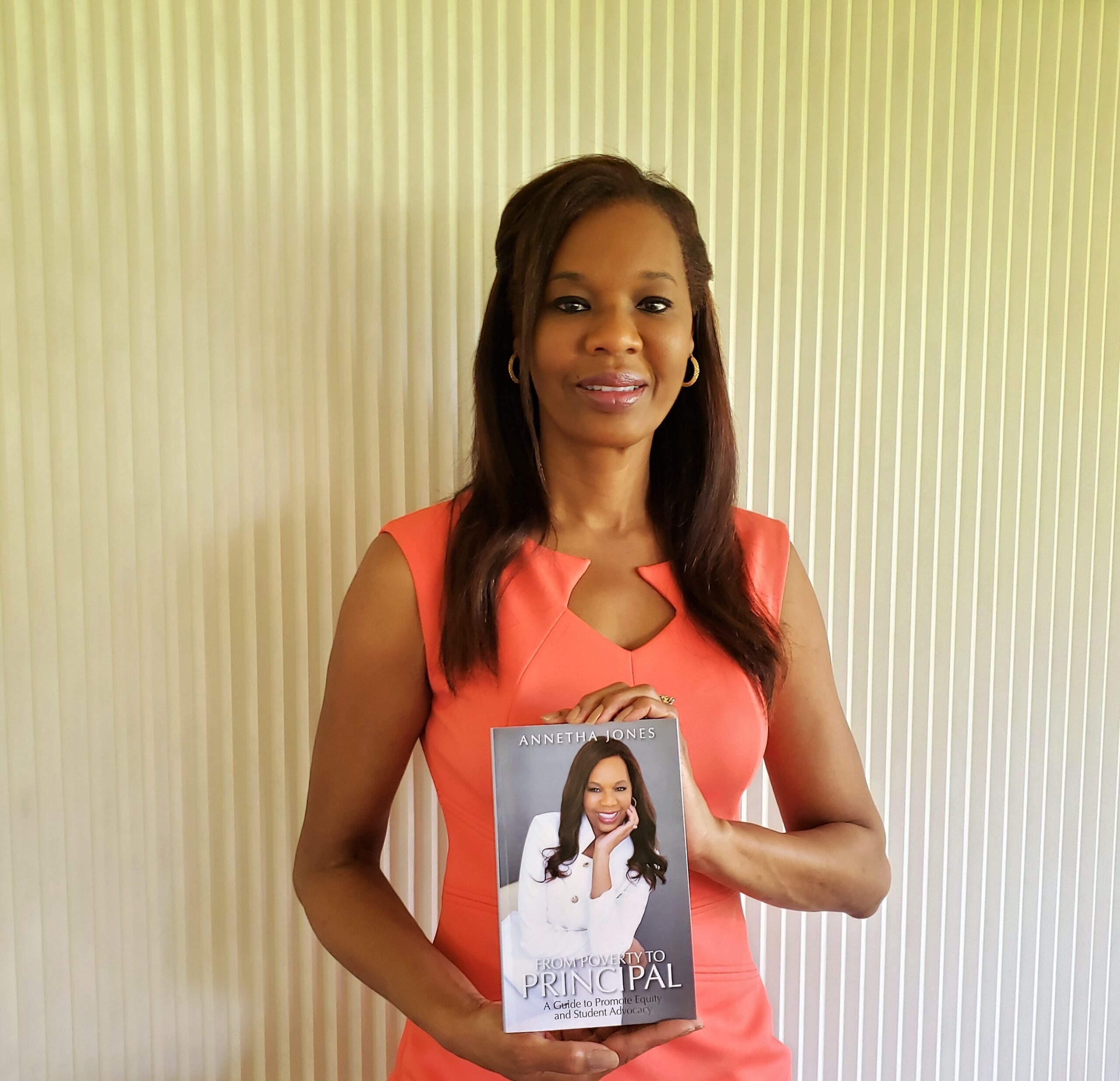 By Audrey Grayson, Photos by Audrey Grayson's Mobile Photography, LLC
I had a conversation recently with Mrs. Dorothy Holley who is a new member of my church, Greater St. Paul Missionary Baptist Church in Cocoa. As we talked, we found that we had a lot in common. We both lived in New York in the past, we both went to school there and took computer courses. I took my first computer classes back in the 'olden' days of the 1960s.
As our conversation progressed, she told me that her niece, Annetha Jones, had just authored a book. This piece of information immediately triggered my newspaper article antenna. My primary goal as a writer for Ebony News Today is to share information about members of our Brevard community. I wanted to write an article to make our community aware of her accomplishment and to publicize her book. Mrs. Jones was also the first female African American principal of a high school in this district. So, I scheduled an interview with this lady. I began the interview by asking Mrs. Annetha Jones what prompted her to write the book.
First of all, Audrey, thank you so much for interviewing me. I really appreciate it. It gives me joy anytime I have an opportunity to talk about my book. The book is mainly the result of an experience I had in ninth grade and knowledge I have gained as a principal. As a teenager, I was placed in a math class that was composed of primarily students of color and there were only a small population of students of color at my school in comparison to overall demographics. As I entered the room and I saw all Black and Brown kids, my first thought was, it's very strange that we're all in this one class. So, I asked the teacher, what's going on, why are we all in this class? And he told me it is because you all receive free or reduced lunch. At that time, I realized that I had to become an advocate for myself. I had to advocate to get out of that class, so I first sought advice from the teacher, and he advised me to talk to the school administration. The administration did not transfer me out of the class, so when I went home I spoke with my mother about this. My mother met with the principal the next day, and I was removed from the course, immediately.
I've often reflected on this and asked, what if I had not become an advocate for myself? Some of the students in that class, unfortunately, succumbed to those low expectations that were put upon us. So, for me to be an advocate for myself, to get out of that class, and put myself in a position where I could go to college, made me think about other students who were in similar situations. I asked myself, how can I help them be a voice for themselves?
The title of my book is From Poverty to Principal – A Guide to Promote Equity and Student Advocacy. I want to make sure that I can touch as many students as possible, either through their parents or through their teachers. I want young people to understand the importance of using their voice to advocate for their educational goals and for their rights. Additionally, as a principal I gained extensive knowledge of the system's inner workings and I have been privy to the inequities faced by many students of color. I would like to share strategies to assist students to avoid common pitfalls as they navigate the educational system. So, that was my inspiration.
Grayson: What did you put in the book that will help them?
First of all, I had to make the book user friendly for parents, teachers, and students to help them grow. In chapter three of my book, I talk about placing students in appropriate classes. Many of our Black and Brown students are not in the advanced classes, but there's no reason why students should not be challenged to their fullest potential. So as the principal, I pulled their data myself. I pulled their test scores and found that there was no reason why some of these students should not be in advanced classes. In chapter three, I actually talk about what needs to take place and I give them a guide exploring ways to be placed in more elevated and more rigorous courses. So that's one thing.
Then in chapter four of my book, I talk about the due process, because although students of all races will get into some trouble at some point, some students, not all students, but when they do, are the consequences fairly distributed among the students of color, are they equitable? Often times, they are not because the students of color, particularly the Black boys are often suspended at a MUCH greater rate than any other students in the school. So, I talk about ways parents can avoid those pitfalls. When I was principal, the Black male suspension rate decreased substantially. I actually created an in-school suspension program designed to keep the students at school while on suspension so they could continue to learn instead of staying at home being unproductive. I also questioned the assistant principals and deans about each suspension they made to find out if there was an alternative. I asked, why. I asked what else can we do instead of a suspension. For example, should we have a parent conference? Suspending them for a minor infraction was not an option for me.
To help bridge that gap in parent involvement, I provide solutions in my book to parents. I offer some "Points to Ponder"at the end of the book. For example, "Point to Ponder number 9" asks, how familiar are you with the graduation requirements? Then I explain what needs to be done. We can't assume that the needs of our students are automatically being taken care of. Going back to my ninth grade experience, if I was being taken care of properly by school authorities, there was no way that at my academic level, I should have been placed in that math class just because of my lunch status. I remember when I first heard the syllabus for that class, it reminded me of what I learned in fifth grade. I knew that it was way below my potential. In the book, I talk to the teachers and parents about how to ensure that these kids are not falling victim to these circumstances.
I have a chapter on "Virtual Learning". Unfortunately, I predict that in the coming year we will see a learning gap resulting from the lack of resources, i.e., computers and/or internet access by some students in lower income communities. There is something called the Summer Slide that happened long before the pandemic. The Summer Slide is when students, especially kids in the lower socioeconomic background, don't read over the summer, they don't have access to the same resources as their more affluent or middle-class counterparts. When school is over in May or June, some students have not read throughout the summer, so when they get back to school in August, their achievement gap has widened between those who do and those who don't. I believe that virtual learning during the pandemic will have a similar impact on all students but more of an impact on our kids of color. That achievement gap will be pretty tough to narrow.
I've also included a chapter in my book about testing. Based on the research and information that I've gathered over the years, many of our students of color are not successful on those state assessments their first time around. Once again, as principal, I pulled their data and asked myself the question, why is this child not successful? Why have they failed this test two or three times? I had a couple of people on my team who helped me obtain answers to my questions. We came up with an individualized plan to help these students pass this test. A plan was put in place that consisted of practice sessions on special software, working with literacy coaches, and talking with the parents, many of whom I called myself. I let them know that their child can pass this test. I asked parents to bring their child to the school on an arranged date for testing.
By the way, passing the state assessment is not the only path to ensure graduation. Students can take the Scholastic Assessment Test (SAT) or American College Testing (ACT) and if they pass the SAT or ACT in the area where they have a deficiency, the state allows them to use that score in place of that state test. The SAT is intended to assess students' readiness for college and the ACT is a standardized test used for college admissions. I gave that information to my parents and my students and I talk about it in detail in my book.
Grayson: How was your relationship with the parents of your students?
Most parents were very appreciative of the help and the information that I provided them. Often, after I called them with information, they would make a special trip to the school, and say "Mrs. Jones, thank you so much." I felt appreciated for all my efforts. I felt appreciated after spending that extra ten hours on the weekend performing research and analysis to help those students. I had a good relationship with my students, for example, at lunch time, they asked, "where is Mrs. Jones and would seek me out?" Throughout my career, I can say that I had a good relationship with the younger, as well as with the older students. I still have my adult students reaching out to me. I do believe the parents were grateful for the personal calls I made. You know I couldn't call every single parent myself, but those who were in the greatest need were the ones I personally called. Those who were not in dire need were contacted by my team. Now there were some students who got into trouble, which made things difficult because they had to suffer the consequences and of course, there were some parents who had different expectations because I was African American, but my response was, I have a school to run, I can't make special allowances. I have to be fair to my students across the board.
Grayson: What are you doing now?
Well, I'm happily retired and really enjoying having more time with my family and friends. I've spent the last year writing my book. I've also served as an educational consultant when time permits. Currently, I am assisting the Harry T. Moore Center and UCF on a grant to support some youth in our community with extended learning opportunities, facilitators, and computers. We're all working as a team to provide these students with extra layers of support.
I've also been mentoring and sharing my expertise with people in different states who have seen my book trailer on social media and have reached out to me. I continue to give parents advice on how to help their children succeed. I am also a proud and active member of Delta Sigma Theta Sorority, Inc. But mainly, I am enjoying my retirement.
Finally, Mrs. Annetha Jones told me that she was blessed to have a fine career. My evaluations were highly effective. I've never had a sub-par evaluation, ever. I was teacher of the year; I was assistant principal of the year. I was recognized for mentoring programs I started, I drastically decreased the suspension rate when I was at the middle school and so my data spoke to why I was named assistant principal of the year. At Jackson Middle School, I was nominated for principal of the year. In the 2 years that I was at Titusville high school, the graduation rate increased by 5%.
As a principal, I was charged with the responsibility to educate every student to their fullest potential, no matter their race or color. I faced some difficult challenges as principal, but I had the support of so many concerned members of the community who didn't want me to retire. However, I was looking forward to retiring and although it was a hard decision to make, I made the best decision for me and my family.
Grayson: Where do you see yourself in the future?
That's a good question and I pray every day for God to order my steps to do what he wants me to do. I just attended a professional women's networking conference in Kentucky last week. So now, I'm a certified international coach. I see myself always offering support to students and their parents. I want to continue to share what I've learned so that children get the best out of the education system? I don't ever want to stop sharing my voice. In the back of my book, I have my mantra: "I hope what I've learned will help others gain the most from the educational system. We must all work to ensure our students are prepared for the amazing opportunities awaiting them." I want to continue to share what I've learned via speaking engagements, coaching, consulting, and helping children grow from my experiences.
Grayson: Your career is all about your dedication and your hard work. You've put in the work to ensure that these children succeed, and I respect you for that.
My husband, Cletis, says that I don't give myself enough credit, but you're right, I did put in the work, I did, I was there on the weekends, or working at my home until midnight, but helping my students was very important to me.
Mrs. Jones and her husband Cletis have been married for 32 years and are the proud parents of two grown children.
Grayson: I pray that you continue to use your trusted voice to save our children no matter the race or color. Thank God for you and for all you do.
About Author