African American Heritage Festival held
2 min read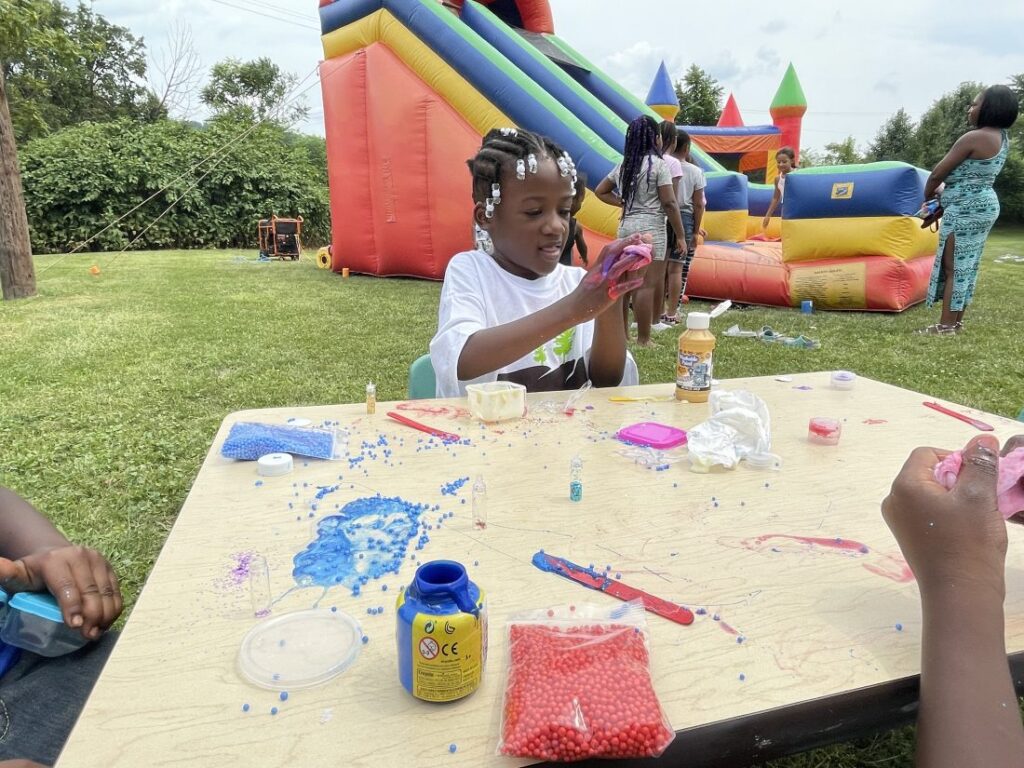 ENJOYING THE AFTERNOON — Mixing beads, paint and a whole lot of enthusiasm made for a fun afternoon for Zalayna, 5, at Steubenville's African American Heritage Festival, Saturday. The games and activities, all free, were organized by Char's Playhouse on Linden Avenue, a local daycare. — Linda Harris
LINDA HARRIS
Staff writer
lharris@heraldstaronline.com
STEUBENVILLE — The day was hotter than they'd hoped for, but organizers say Saturday's African American Heritage Festival in Steubenville was exactly what they'd wanted it to be: A resounding success.
"It was amazing," C.J. Mitchell said. "Beyond my wildest dreams."
The festival, held at North End Park, was a chance for community residents to get out and celebrate their heritage and learn about some of the small businesses serving the community, particularly those owned by African American business owners.
Mitchell said it was an annual event when he and other committee members were growing up, but during the past 10 years or so it had faded away. He said the organizing committee hopes to change that.
"People definitely got the point and we will 100 percent do it next year and make it a three-day event," he said.
Highlights of this year's event included live music, a smorgasbord of food, vendor booths, games and kid activities, a balloon release in remembrance of lost loved ones and a crowd favorite, an "old school versus new school" basketball game. Old school won, he said.
"Magic View Media, a local vendor at the event, made towels that said 'old school' and 'new school' and people purchased them based on their rooting interest. The new school team had the lead at the half but the old school turned it on in the second half. Michael Jett served as the emcee and kept the crowd involved the entire game."
Mitchell said they also were able to distribute 72 bookbags stuffed with school supplies for area children.
"I believe all our food vendors ended up running out of food by the end of the event," he added. "All the vendors involved expressed how successful it was. As I stated before, this was a trial run (for us) and we passed with flying colors. We've received an overwhelming response as far as pledging support to make (it) even better next year as we move to make it an annual three-day event."
He also expressed his appreciation for the efforts of the Jefferson County Health Department, which administered eight COVID vaccine shots at the festival; Mayor Jerry Barilla; Parks and Recreation Department; the Steubenville Water Department and Steubenville NAACP.