70th Anniversary of the Moores Contribution to the Civil Rights Movement
2 min read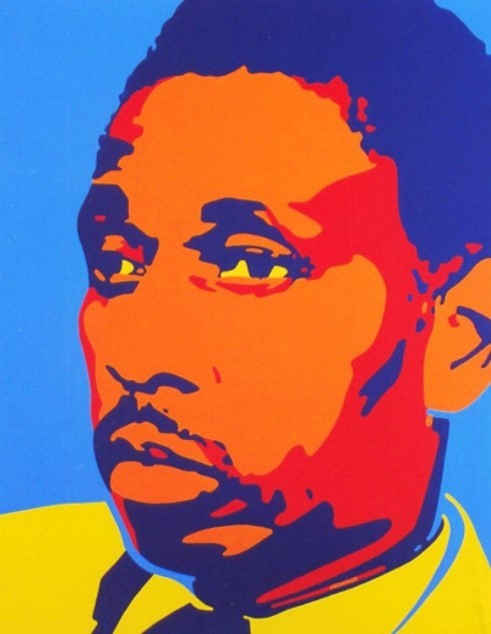 Sonya Mallard
This Christmas, December 25, 2021 marks the 70th anniversary of the death of the civil rights martyrs, Harry T. & Harriette V. Moore. They were Educators, Civil Rights Activists, Orange Grove Owners, Community Organizers, Church Trustees, College Graduates, NAACP members, President of the Brevard County Chapter of the NAACP, President of the Florida State Teacher's Association for Colored Teachers, and Co-Founder of the Progressive Voters League. Their place in history forever synonymous with the day we celebrate, as a nation the birth of Jesus Christ, Christmas.
In 1951, at a little cottage in the town of Mims, Florida a bomb exploded and the repercussions still echoes until this day. We can still hear the cries of a daughter, Annie Rosalea (Peaches) concerned not for her own welfare, but the welfare of her parents. We still feel the anguish of a mother (Rosa) calling out to her only child Harry, to no avail. We still feel the devastation of another daughter, Juanita Evangeline (Van) coming home after a two-day train journey, to celebrate with her parents the rest of the holiday season, only to find out her family home was destroyed by a bomb laced with hatred and bigotry, resulting in the death of her father and the grave injury of her mother. Christmas of love, peace, and joy taken away by the cowardly act of a murderer, in the night waiting in the sleepy orange grove of the Moore's homesite. The bomb was said to be so loud that it was heard around the world, all 24,901 miles of earth. A reminder of, after 70 years later that killing a man does not kill his dream or legacy.
Today, like a phoenix arising from the devastation of pieces of a home being blown into the air and the ashes, we have a Memorial Park and Museum that is overseen by Parks and Recreation. The Harry T. & Harriette V. Moore Cultural Center and Museum pays tribute to the contributions the Moore's made to the pre-civil rights movement. Here patrons can learn where the catalyst to the civil rights movement began and all that they accomplished.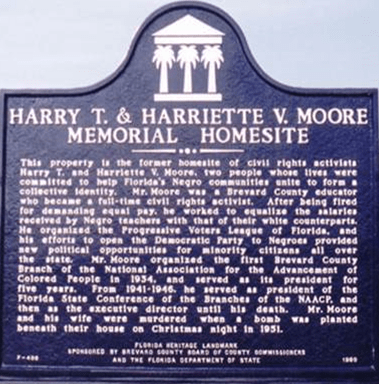 The Harry T. & Harriette V. Moore Memorial Park and Museum explores the history of the Moores through interactive exhibits, historic collections, dynamic speakers. In contrast to yesteryear's Civil Rights Movement, we also examine today's global civil and human rights issues. We offer artifacts, films, oral histories, interactive media and storytelling from our Cultural Center Coordinator, Sonya Mallard and Carshonda Wright, Cultural Center leader that guide visitors through decades of history. Visitors learn about the milestone events that shaped the civil rights climate over the years in the State of Florida and beyond. We also offer memorabilia that reflects on the years since the tragic death and the historic reaction and continued impact of the legacy of the Moores.
For more information about the Moores Legacy or to schedule a tour, please contact #321-264-6595.