Crist's "Justice for All" tackles Florida's judicial inequities, Criminal Justice Reform Top Priority
2 min read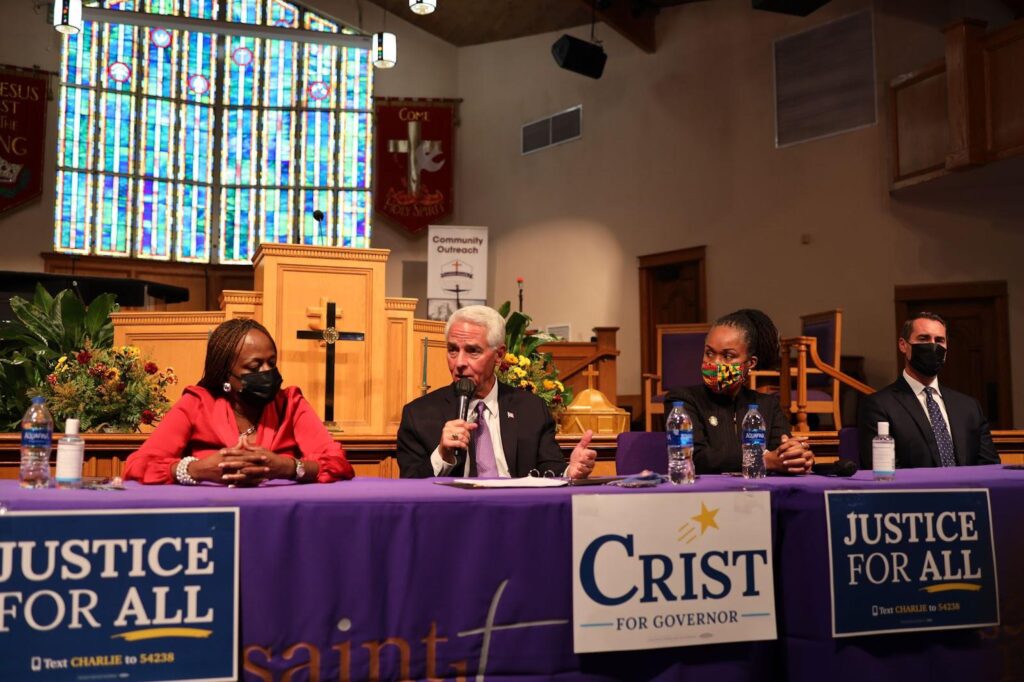 Crist, Worrell, Commissioner Hill, and former gubernatorial candidate Chris King discuss ways to fix Florida's judicial system.
Democratic Gubernatorial candidate Congressman Charlie Crist pledged to bring equal justice to Florida's judicial system as he traveled to communities throughout the state. "We have to deal with the reality that our system is not fair and just; that our system treats different people, differently," according to Orange-Osceola State Attorney Monique Worrell. Worrell joined Crist, Orlando City Commissioner Regina Hill, former gubernatorial candidate Chris King and criminal justice reform advocates in presenting ways to repair a broken court system.
Crist, is the leading candidate in the race to unseat Republican Governor Ron DeSantis. He continues to beat DeSantis in public opinion polls because of his record on a variety of public policy issues. The retortion of civil rights to non-violent felons is one. Crist did that when he was governor in 2007. It was a life changer for Orlando City Commissioner Regina Hill. "I was able to turn it around because of Governor Charlie Crist. Charlie Crist automatically restored my rights."
Crist restored the civil rights of over 155,000 Floridians. No governor has matched his record. In fact, Governor DeSantis continues to undermine the new constitutional law at every turn. Crist said that when elected he will restore that process and ease the community transition for returning citizens. Reform advocates and Tampa State Attorney Andrew Warren also support the effort.
"The reality is giving people opportunities doesn't lead to crime," said Warren. "We need to begin putting these second-chance stories to the forefront."
The deadly consequences of gun violence
Maress Scott of Tampa is a tireless fighter against gun violence. His son Maurice Scott was shot and killed while riding his bicycle to a friend's house. In the two years since his death, Scott has become an outspoken activist against gun violence which is a major component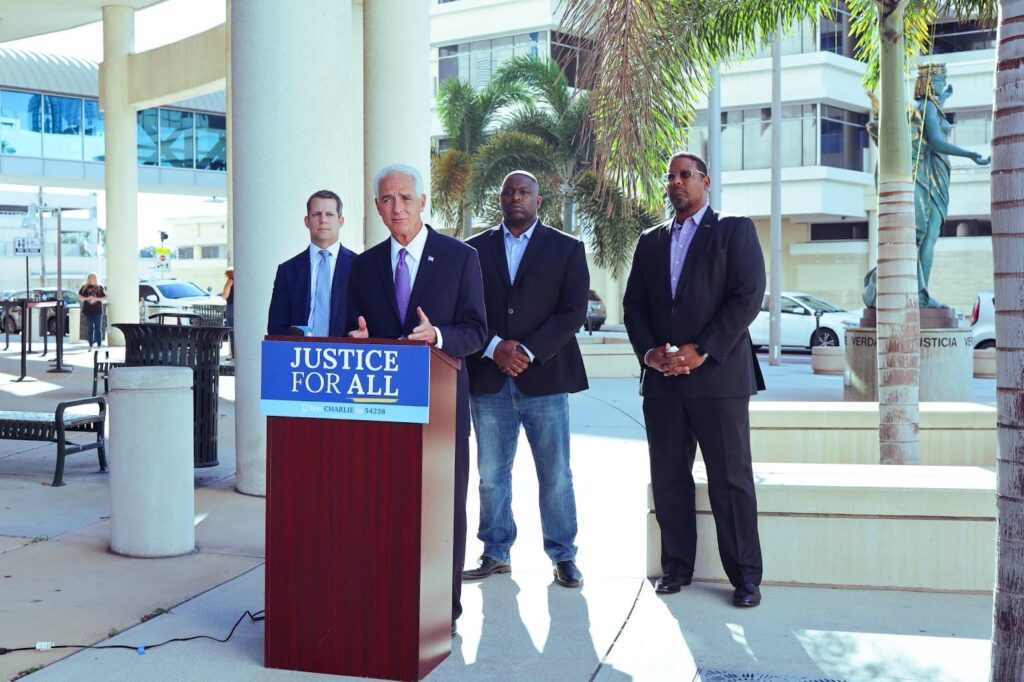 of Crist's justice reform plan. As governor, Crist plans to ban assault rifles and high-capacity magazines, require universal background checks for all firearm purchases, and increase resources for affordable housing, healthcare, education, and jobs to communities impacted by gun violence.
Crist again criticized Florida's last two governors, Republicans Rick Scott and Ron DeSantis, whose policies have done tremendous harm to communities of color. It is easier for young people and children to get their hands on guns but harder for everyday Floridians to exercise their right to vote – especially Black Floridians.
"For too long we have focused on incarceration when we should be focusing on rehabilitation, forgiveness and restoring and rebuilding," Crist said. "My Justice for All plan is a promise to communities across Florida that the Crist Administration will usher in a new era, one where our state will not turn a blind eye to injustices, but tackle them head-on."