Fort Lauderdale Native Serves Aboard USS The Sullivans
2 min read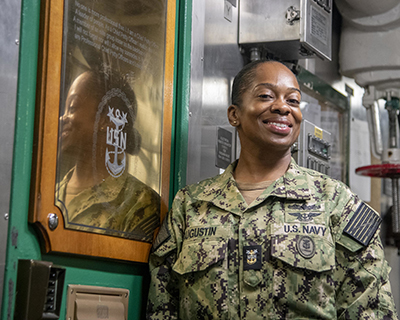 Master Chief Petty Officer Jacelyne Augustin (U.S. Navy photo by Mass Communication Specialist 1st Class Daniel Cleary/Released)
Carma Henry, Westside Gazette, Ft. Lauderdale Fl.
Submitted by Rick Burke
NAVAL STATION MAYPORT, FL — Master Chief Petty Officer Jacelyne Augustin, a native of Fort Lauderdale, Florida, is serving aboard the Arleigh Burke-class guided-missile destroyer, USS The Sullivans (DDG 68).
Augustin, a 1999 graduate of South Plantation High School, is the oldest of seven children and joined the U.S. Navy to set an example for her younger siblings.
Today, Augustin serves as the Command Master Chief and ship's senior enlisted leader responsible for the liaison between the commanding officer and enlisted sailors. Additionally, she takes care of the sailors and makes sure the ship runs as smoothly as possible.
"I love The Sullivans," said Augustin. "I'm one of those sailors who actually loves being on a ship. The Sullivans crew has opened their arms for me, and I couldn't have asked for a better ship."
According to Navy officials, The Sullivans is named to honor five brothers from Waterloo, Iowa, who served together on the USS Juneau during World War II. The Sullivan brothers: George, 28; Francis, 27; Joseph, 24; Madison, 23; and Albert, 20; lost their lives during the Battle of Guadalcanal on November 13, 1942. They were adamant about serving together in spite of the Navy wartime policy to separate family members. This was the greatest military loss by any one American family during World War II.
The Sullivans is currently undergoing a routine maintenance period after completing a seven-month global deployment where they participated in multinational operations and joint training exercises with international partners to foster positive relationships while ensuring freedom of navigation and maritime security.