Nancy Pelosi's Pick to Replace Her Is a Champion of Music Rights — and a Huge Hip-Hop Fan
4 min read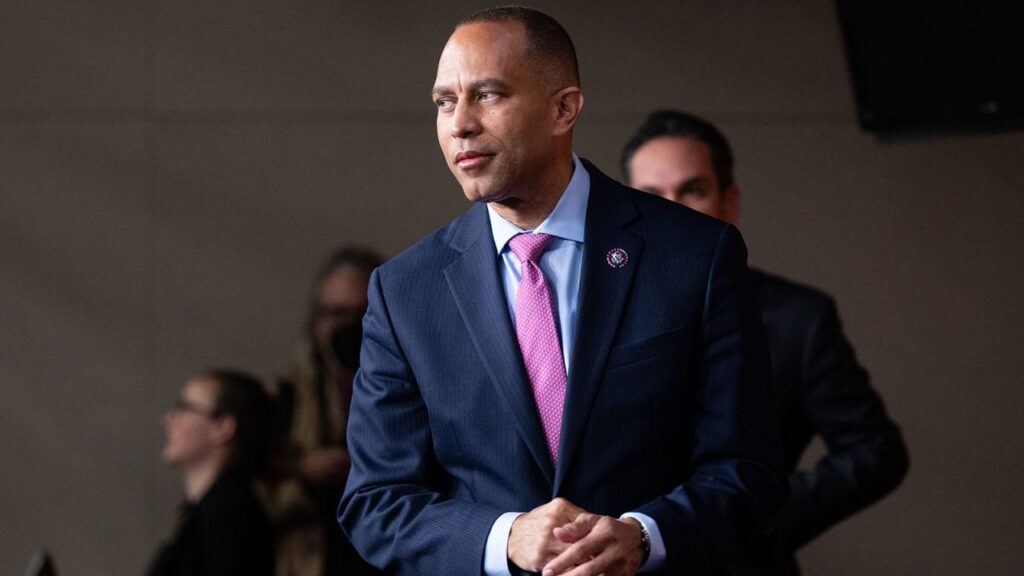 Rep. Hakeem Jeffries, poised to lead House Democrats, has co-sponsored key legislation to help musicians and songwriters. Industry leaders are thrilled.
There's some good news for the music business in Washington DC: House Democrats seem to have found their next caucus chair in Rep. Hakeem Jeffries, a champion of music creators who since 2013 has served as the U.S. representative for New York's 8th congressional district. Jeffries, who represents parts of Brooklyn and Queens, co-sponsored the Music Modernization Act, the most important copyright law passed in decades, as well as the Copyright Alternative in Small-Claims Enforcement Act of 2020, a.k.a. the CASE Act. He's also known as a big hip-hop fan, who once gave The Notorious B.I.G. a shout-out from the House floor on the 20th anniversary of his death.
A formal vote has not yet been taken. But the party seems to be coalescing around Jeffries, who was endorsed as a successor by outgoing Speaker Nancy Pelosi (D-Calif.). If chosen, Jeffries would become the first Black leader of a Congressional caucus, as well as the presumptive Speaker if the Democrats were to win back the House majority. And although it's hard to say if serious copyright legislation will come in front of Congress, having a supporter of creators and copyright in such an important role could only help rightsholders.
"Mr. Jeffries has been a steadfast supporter of songwriters, and as an original cosponsor of both the Songwriter Equity Act and the Music Modernization Act, he has fought for fairness for creators throughout his career," said NMPA president and CEO David Israelite. "His leadership in this powerful role will bode well for the future of songwriters."
Jeffries was honored by the RIAA in September, along with hip-hop pioneers Grandmaster Flash and MC Lyte. (Billboard sponsored this event.)
"It's hard to think of two potential leaders with more experience working in the trenches of music policy and shaping bipartisan consensus for the digital streaming era than Kevin McCarthy and Hakeem Jeffries," said Mitch Glazier, chairman and CEO of the RIAA. "A House led by Speaker Kevin McCarthy and Democratic Leader Hakeem Jeffries would feature a dynamic duo for the music community."
Before entering politics in 2007, Jeffries worked as a lawyer, first in New York for Paul, Weiss, Rifkind, Wharton & Garrison – where he worked down the hall from NMPA general counsel Danielle Aguirre – then for Viacom. At Paul Weiss, he worked on some copyright cases, and he represented Lauryn Hill in a case brought by some of her collaborators. "He has a deep understanding of copyright law," Israelite said. "He may know the subject better than anyone else in Congress."
Jeffries may also be one of the bigger music fans in Congress. Besides giving Biggie a shoutout, he's written about his favorite female rappers, and hosted an annual "Hip-Hop on the Hill" political fundraiser. "Watching hip-hop develop — with Grandmaster Flash, and then Run-DMC, and then the artists of the '80s and '90s — has been a fantastic journey," he told Billboard in a 2018 interview about his history as a fan of the genre. "What's been most compelling to me is how hip-hop has been a vehicle to tell the story of urban America and black America in such an artistic, poetic, and authentic fashion."
Jeffries is involved with a number of issues, of course. He advocates police reform, and he co-sponsored the Formerly Incarcerated Reenter Society Transformed Safely Transitioning Every Person Act, a.k.a. the First Step Act, which reformed prison and sentencing laws. He voted to impeach Pres. Donald Trump, but he's also known for working well with Republicans, including former Rep. Doug Collins (R-Ga.), with whom he co-sponsored the Music Modernization Act, as well as the First Step Act. (The two also put together a summer playlist.) Jeffries has also been a leading Democratic fund-raiser.
Some of this has put Jeffries at odds with some of his more radical colleagues, including Rep. Alexandria Ocasio-Cortez (D-N.Y.). Jeffries is a member of the Congressional Progressive Caucus, but his politics are more centrist, as well as more pragmatic. His ability to compromise could be important, since he will have to work with both the Republican House majority as well as the progressive members of his own party. He recently told CNN that "while we can have some noisy conversations at times about how we can make progress for the American people, what we have seen is that under the leadership of Speaker Pelosi, Steny Hoyer, Jim Clyburn, we have constantly been able to come together."