NAACP: Noose found at RHAM High School in Hebron was a 'deplorable act of brutality'
3 min read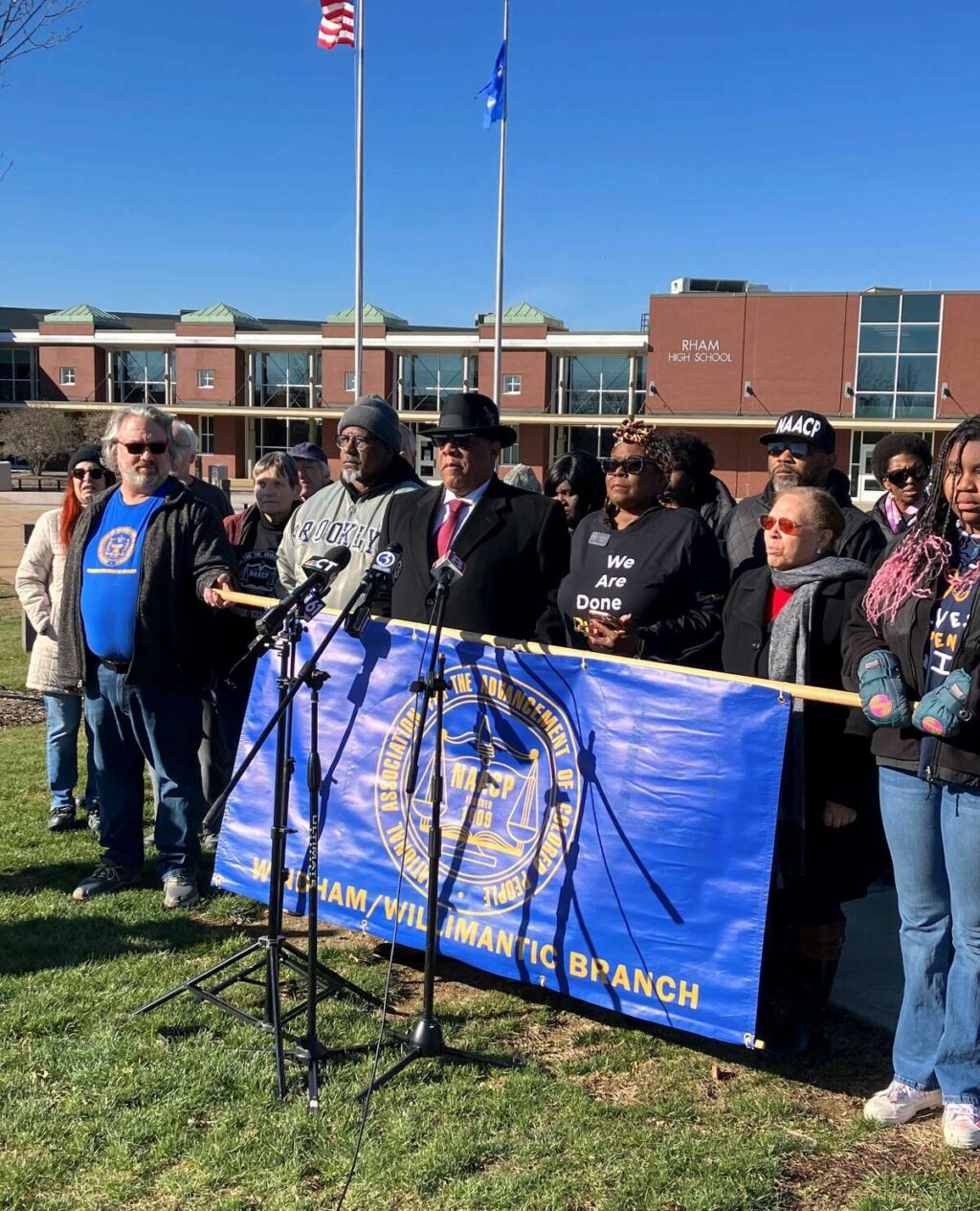 Preparing for an NAACP news conference about a noose found hanging at RHAM High School last week, TV news crews had set up cameras and microphones in a parking lot across the street from the school Tuesday afternoon.
But soon after arriving, Connecticut NAACP President Scot X. Esdaile said the conference would instead be directly in front of the school. He and other NAACP members were not in town to make anyone comfortable, Esdaile said.
"We're here to disrupt," he said as the group marched across the road behind the banner of the organization's Windham/Willimantic chapter.
Region 8 Superintendent of Schools Colin McNamara, who had read a statement earlier in the parking lot, asked the group not to get too close to the building to avoid making "a spectacle of the school." But a woman with the marchers said, "The noose was the spectacle."
Found hanging in the boys locker room on Friday, the symbol of hate is the focus of a local and state police investigation. Esdaile said the NAACP wants to ensure action on what he called a violent crime against Black people.
The noose cannot be "dismissed as child's play," Windham/Willimantic Chapter President Leah Ralls said.
"We are done dying, and we are tired of hatred," Ralls said. "We want change."
Reporters asked Esdaile how education about lynching and racism in the U.S. might help and how "the culture" can be changed. But he and Ralls stressed that bringing the perpetrator to justice is foremost.
"I don't know how to change a racist from being a racist," he said. "I don't know how to change a rapist from being a rapist. We're not in the business of correction — that's what the Department of Correction is for."
The Hebron noose is not an isolated incident, Esdaile said, but part of "rampant" racist acts across the state and nation. He and other NAACP leaders were to meet with McNamara after the news conference to talk about action being taken.
The superintendent said Tuesday that the school district which serves students from Hebron, Andover and Marlborough "will not tolerate harassment or any other inappropriate conduct toward any of our students."
"Our goal is to provide for the wellbeing of all our students, to educate them about appropriate, inclusive and respectful behaviors and to ensure that our school community is free from conduct that targets any group or individual based on any aspect of their identity," McNamara said. "Please know that anyone determined to be involved in this matter will be held accountable."
"We fully expect to leverage this opportunity, come together and address this issue through education, training and community conversations," he said.
But Esdaile said the person who hung the noose must be locked up before any discussion about education.
"The noose symbolizes a deplorable act of brutality and hatred toward African Americans," the organization said. "White supremacists have not only used nooses to torture and kill, but use symbols such as a hangman's noose to attempt to create fear and intimidation along with trying to diminish and hinder opportunities for Black people in this nation."
Anyone with information about the incident can call an anonymous tip line at 860-228-5319.
About Author