Congress members introduce Black History Bill amid "attacks" on Education
3 min read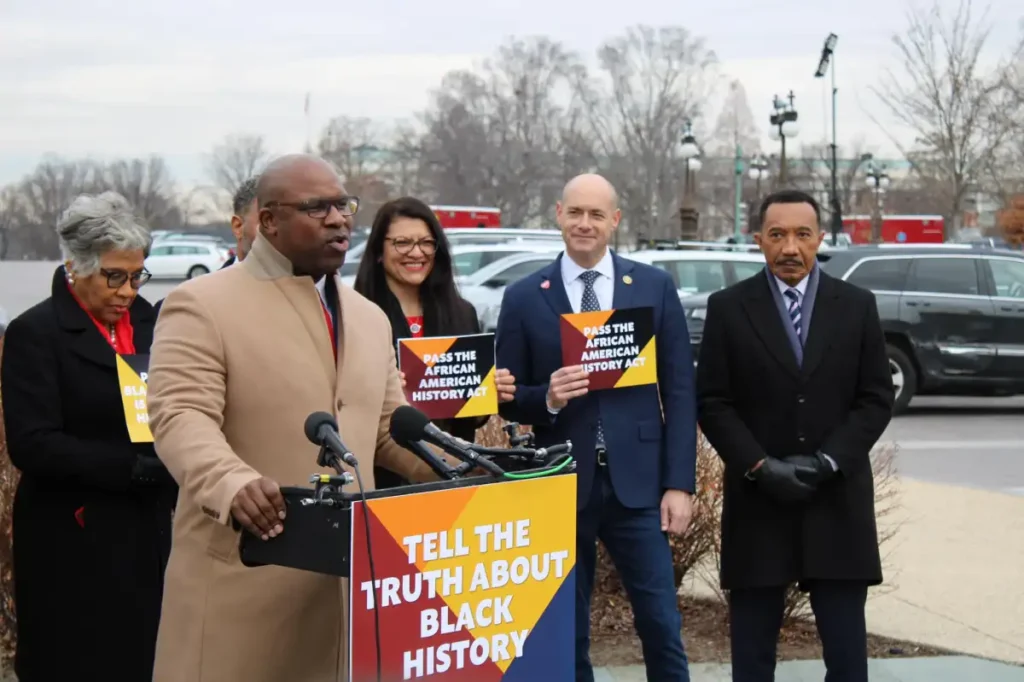 by ARIAMA C. LONG Report for America Corps Member / Amsterdam News Staff
On Thursday of last week, U.S. Rep. Jamaal Bowman, in partnership with Representatives Kweisi Mfume from Maryland and Joyce Beatty from Ohio, announced three bills highlighting and preserving Black history in classrooms "under attack."
"The Republican party and Ron DeSantis, do me a favor? Pick up a book and read a book," said Bowman at a Washington, D.C., press conference on Capitol Hill. "We know that you are trying to erase that history because you don't want Black people to have knowledge of self. You want to keep us dumb, deaf and blind so that you can oppress, suppress and control us."
The federal bills respond directly to a wave of state laws that intend to censor discussions and books about race, accurate depictions of Black history and even gender. In states like Florida, under Republican Governor DeSantis, the college board stripped an advanced course on Black History studies last week.
Bowman sponsored the African American History Act with Senator Cory Booker co-leading. He said that Black people as a collective would not go back to ignorance and oppression in his speech while quoting rapper Nas: "Get up out of here with your nonsense."
Mfume sponsored the National Council on African American History and Culture Act. He said that the constitution itself was compromised in its call to end tyranny by enslaving African peoples in the first place. "Everything that the founding fathers claimed then in the name of morality, they contradicted in their attitudes toward and their treatment of descendants of Africa and the native inhabitants of this land," said Mfume.
Mfume's bill would create a 12-person national council that advises the National Endowment for the Humanities (NEH) about how to amplify Black creators, strengthen Black history curricula and provide critical resources dedicated to preserving Black history. Maryland Senator Ben Cardin is co-leading this effort and introduced a companion bill in the U.S. Senate.
"African American history is American history. For too long ,our history lessons failed to fully acknowledge the role of Black Americans. And it happens in far more places than schools — so much of what we have learned for generations about history, music, culture and more has diminished the role of African American creators, writers, musicians and beyond," said Cardin in a statement.
Mfume credited Beatty for coming up with the idea of a joint effort to protect Black education. Beatty sponsored the Black History is American History Act, which requires the inclusion of Black history in grant programs from the U.S. Department of Education. If the law passes, grant recipients of Presidential and Congressional Academies would have to include Black history as part of American history workshops and teachings. The bill also encourages the integration of Black history tests in schools. 
"To have a college board that would want to dictate or say that you can only read very conservative [writings] is very frightening to us. So as we continue to push this legislation, we will continue to push books, authors, Black leaders, that we want our communities to know about," said Beatty.
About Author