The Historic Significance of a Super Bowl With Two Black Starting Quarterbacks
4 min read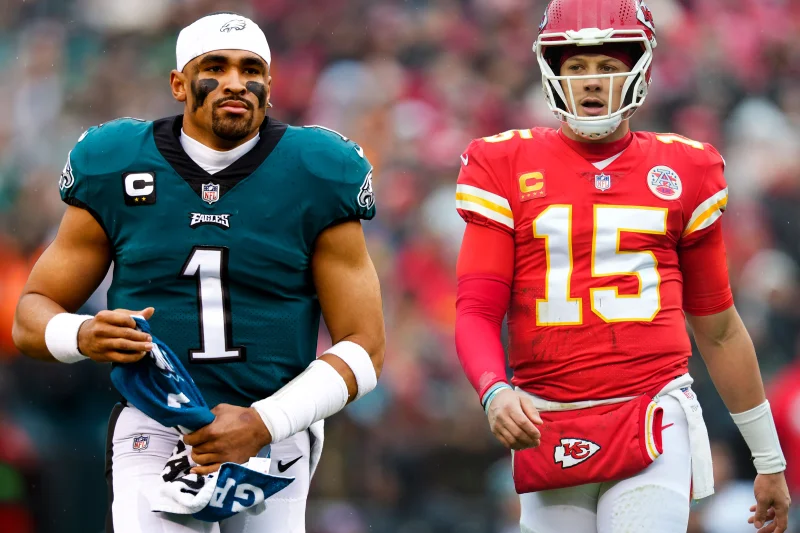 BY SEAN GREGORY 
When Doug Williams, the first Black quarterback to win a Super Bowl—saw the Kansas City Chiefs win the AFC Championship game two weeks ago, he grew emotional. "Tears didn't come down my eyes," Williams tells TIME. "But they were in my eyes." Williams, who led Washington to a 42-10 Super Bowl victory over Denver in 1988, knew that for the first time in NFL history, two Black quarterbacks would be starting in the title game. Patrick Mahomes, the Kansas City Chiefs superstar and just the third Black quarterback in history to win the Super Bowl, after Williams and Russell Wilson in 2014, would be back for his third Super Bowl appearance in four years (his Chiefs beat the San Francisco 49ers in 2020). Earlier on that championship Sunday, Jan. 29, Philadelphia Eagles quarterback Jalen Hurts—who's in his third year in the NFL—propelled the Eagles past San Francisco to secure his first Super Bowl trip.
Williams, now a senior advisor to the president of the Washington Commanders, was the Super Bowl XXII MVP: he finished with 340 passing yards and four touchdown passes. The presence of two Black starting quarterbacks in the Super Bowl for the first time reminded him of past injustices faced by Black quarterbacks and gave him hope for a more equitable future. "We have been denied over the years," says Williams from Phoenix, where he's in town for Sunday's big game at State Farm Stadium in Glendale, Ariz. "I don't care what anybody says, there's one word that's key to this whole thing, and it's opportunity."
That opportunity to set up behind center, to become the face of a franchise and perhaps the entire NFL, once eluded Black players. Coaches at all levels slotted Black quarterback prospects into other positions, like wide receiver or defensive back. "I think about all the rich history in this game, and to be part of such an historic event, historic moment, it's special," said Hurts on Monday. Mahomes also used the word "historic." "So many people laid the foundation before us," he said, "and to be playing with a guy like Jalen, who I know is doing it the right way, it's going to be a special moment that I hope lives on forever."
Of course in these divisive times, the celebration of this Mahomes-Hurts milestone has offended the sensibilities of some Americans. "Enough of the race card already," goes one typical social media posting objecting to the Black quarterback storyline. "Why is race the first thing leftists notice?" said another Twitter user.
Such knee-jerk reactions miss the point. The accomplishments of Mahomes and Hurts "gives us a time to reflect and understand history, at a time when history is trying to be erased," says Louis Moore, a history professor at Grand Valley State University, in Michigan, who specializes in African-American and sports history. Many states have restricted ways race can be discussed in classrooms. Florida has rejected an Advanced Placement course in African American studies for high school students.
"We have to sit with history," says Moore. "For a lot of people, it's hard for them to sit with that, because sports is supposed to be about merit, right? Even America as a nation is supposed to be about merit. And here, to tell this story,
we have to say, 'No, wait a minute, there's a history of discrimination, and it's pretty obvious.' We have to have this conversation, because it impacts a lot of people."
Back in 2007, Tony Dungy and Lovie Smith became the first Black coaches to face each other in the Super Bowl. During that season, there were seven Black coaches in the NFL. But since that promising time, progress has stalled for Black coaches. There are currently three in the league, and several former Black head coaches are suing the league for discrimination.
It's gotten somewhat better on the quarterback front. There are 11 Black starting quarterbacks around the league; Mahomes is 27, and Hurts is 24. It won't take another century-plus before for two Black quarterbacks play again in an NFL title game. But "as a nation," Moore says, "we've never really been comfortable with Black leadership. The people who pushed for Black quarterbacks—the coaches, the writers—wanted them in the position for those to show what Black leadership looks like. To show what Black intelligence looks like. And on Sunday, we get to see that."
About Author