Gov. DeSantis suspends State Attorney Monique H. Worrell, citing neglect of duty
2 min read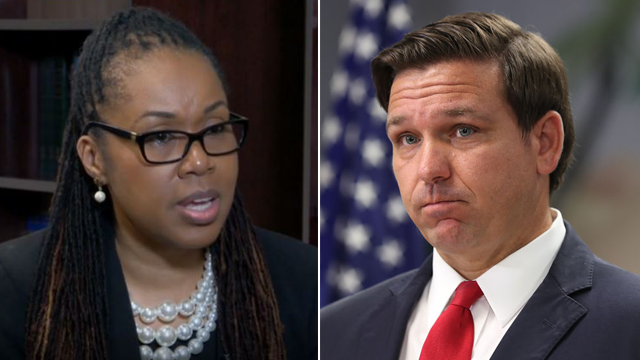 By Chelsea Robinson
On Wednesday morning, Gov. Ron DeSantis announced that he will be suspending State Attorney Monique H. Worrell, citing neglect of duty.
DeSantis made the announcement, saying Worrell's criminal justice administration has been, "clearly and fundamentally derelict, so as to constitute neglect of duty and incompetence."
"The state of Florida is a law and order state," the governor said. "Refusing to faithfully enforce the laws of Florida puts our communities in danger and victimizes innocent Floridians."
The formal reasons for the suspension, implemented by executive order, are as follows:
Pattern or practice to avoid minimum mandatory sentences for gun crimes
Pattern or practice to avoid minimum mandatory sentence drug trafficking offenses
Pattern or practice allowing juvenile offenders to avoid serious charges and incarceration
Pattern or practice to avoid minimum mandatory to avoid valid applicable sentencing enhancements
Pattern or practice limiting charges for child pornography offenses
Pattern or practice for seeking withholding of adjudication in situations not permitted under Florida law
DeSantis stressed that prosecutors do have discretion on which cases to bring and which to not.
"What this state attorney has done is abuse that discretion, and effectively nullified laws in the state of Florida," he said.
He said Andrew Bain will be taking over for 9th Judicial Circuit.
DeSantis cited the criminal history of Daton Viel, who shot two Orlando officers, as an example of Worrell dropping the ball. Viel was out on bond for a child rape case when he shot the officers.
Worrell held a news conference after the Orlando officers were shot, rejecting "finger-pointing" and attempting to explain why Viel being on the streets was not her fault.
"This has happened repeatedly, where a prosecutor comes out after something has happened and feel the need to explain herself," Attorney General Ashley Moody said.
Democratic Rep. Anna V. Eskamani responded on Twitter to Worrell's suspension:
"This is absolutely disgusting State Attorney Monique Worrell is a duly elected official and the only Black woman serving as State Attorney in Florida right now. Her removal is a complete slap in the face to Orange and Osceola County residents and another example of Governor DeSantis eroding our local control and democracy. This politically motivated action by the Governor in a predominantly democratic part of the state should alarm everyone. DeSantis is extreme, unfit to serve, and must be held accountable."
About Author