Unknown foot soldiers of the Civil Rights Movement in Alabama
5 min read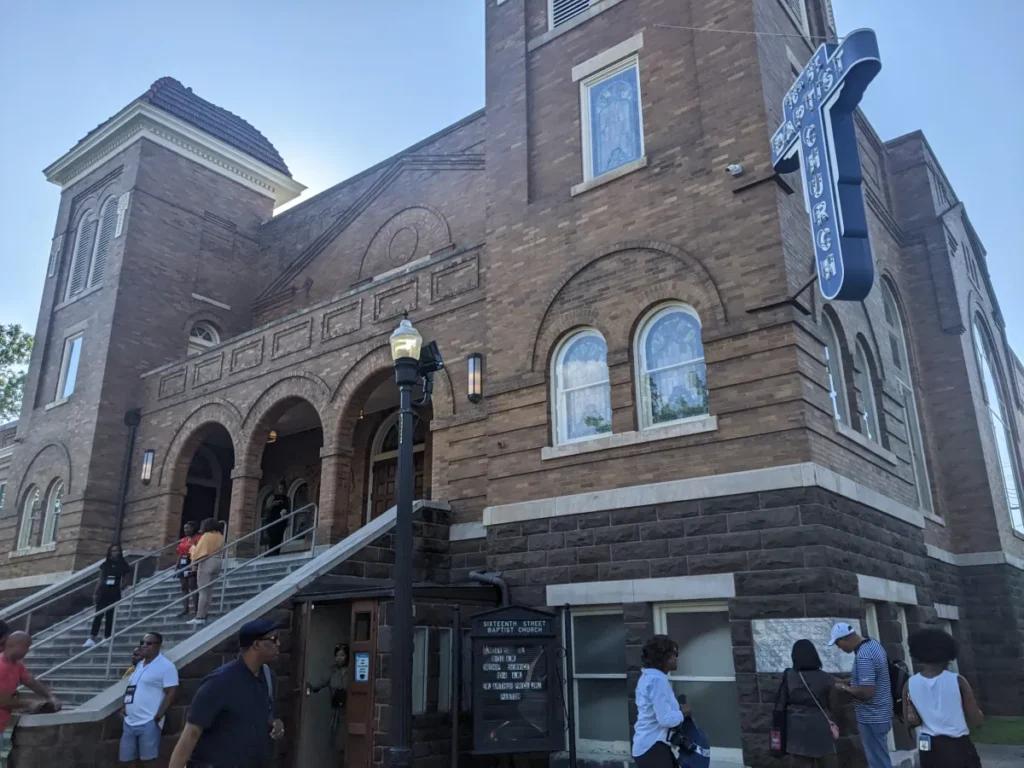 by ARIAMA C. LONG Report for America Corps Member / Amsterdam News Staff
This year marks the 60th anniversary of major events of the Civil Rights Movement, Black people's historic struggle for equality in the U.S. Birmingham, Alabama was one of the cities where many of these events took place, such as the Children's Crusade, 16th Street Baptist Church bombing, and Dr. Martin Luther King, Jr. arrest and famous letter.
Black journalists attending the 2023 National Association of Black Journalists (NABJ) conference, held in Birmingham this year, ventured out on a tour of the city. They spoke with surviving and often unknown members of the movement who detailed their firsthand accounts with abhorrent, racist segregationists and white supremacists during the 1950s and 60s.
Much of the driving force behind the Civil Rights Movement is credited to King's nonviolent demonstrations all over the south, but little is said about the coalition of Black faith leaders and children protesters that initially rallied to jumpstart the movement in Alabama.
Rev. Fred L. Shuttlesworth, who lived until 2011, survived several attempts on his life, including church bombings and beatings, and worked to convince King to come help spotlight Birmingham's tyranny in the burgeoning media. He also publicly took on Theophilus Eugene "Bull" Connor, a ruthless white supremacist and segregationist politician in Alabama that turned fire hoses, police dogs, and a tank on Black freedom fighters during the Children's Crusade of 1963. Many attacked and arrested were Black teens and kids, some of whom were as young as 7-years-old, who had walked out of schools to march. 
Shuttlesworth was adamantly opposed to violence and created the Alabama Christian Movement for Human Rights (ACMHR) pledge to peaceful protests in 1956 when Alabama outlawed the National Association for the Advancement of Colored People (NAACP) in the state. He headed the Bethel Baptist Church in Collegeville, one of the epicenters for civil rights organizers at the time on the northside of Birmingham. He attended meetings in the "war room" at A.G. Gaston Motel, which catered only to Black guests, with King, leaders from the Southern Christian Leadership Conference (SCLC), Ralph D. Abernathy, and others to plan and strategize. 
Rev. Thomas L. Wilder runs the landmark Bethel Baptist Church, where he's served as pastor since the late 1980s. Wilder said that Shuttlesworth challenged the established segregationist laws in Birmingham that would often lead to imprisonment or lynching for Blacks, inquired about voter registration and unlawful literacy tests, and fought against Black people's complacency as second class citizens.
"The subjects of [voting] tests were so difficult, particularly for African American people. They may ask you a question such as, how many seeds are there in a watermelon? How many gallons of water are there in the Pacific Ocean? And no matter what you said it was wrong," said Wilder.
Wilder said that some people categorized Shuttlesworth as either courageous or crazy for his actions. "But after the first bomb that went off on Dec 25, 1956 [at his home] he said all fear left him," said Wilder. "And he was never afraid again."
Birmingham was unfortunately nicknamed 'Bombingham' because there were about 60 racially motivated bombings of Black homes, businesses, and churches that were purposefully never solved by white law enforcement between 1948 and 1963. What's often not said is that survivors of these hellish bombings are still alive today.
At the Civils Right Activist Committee Foot Soldier Headquarters in Birmingham, witnesses to the 16th Street Baptist Church bombing and those who participated in the Children's Crusade gathered to speak with NABJ journalists.
"We were going to have a youth day program. We were laughing all the way to church," recounted Sarah Collins Rudolph, known as the 'fifth little girl' and lone survivor found in the basement covered in debris. 
Rudolph's sister, Addie, was one of the four little Black girls that died in the bombing of the church in September 1963 at 10:22 am. Rudolph was rushed to the hospital after. She lost her right eye and had pieces of glass in her body.
"When I came back to my room my mother was waiting so she told me that all the girls that was in the lounge with me. They was all killed," said Rudolph.
Dr. Carolyn McKinstry, friend of the four girls who died in the explosion, was a 15-year-old Sunday school secretary for the 16th St. Church. She said she loved that church and the sense of community it fostered for her. She recalls being at the very first meeting that King, Rev. Jesse Jackson, and Shuttlesworth held in Birmingham. "I came home from school. I came into this office and I heard what I called fiery speeches," said McKinstry. "Somebody with a lot of passion and I didn't know what it was."
McKinstry remembers signing the nonviolent pledge in order to march with King and Shuttlesworth before the horrific bombing of the church. She had arrived at church that morning with her two little brothers that also survived. She said she carried out her secretary duties. She had passed the bathroom and spoke to the girls. "And when I got to the top of the stairway the phone was ringing," said McKinstry. "The male caller on the other end said 'three minutes' and as quickly as he said that he hung up the phone."
She said she made it to about the first pew on the main floor of the church when the bomb exploded."The first thing that entered my mind was thunder," said McKinstry, about how loud it was. Others also said that the bomb that went off at 16th St. was so loud it was heard all over Birmingham.
"I tell people sometimes when the church was bombed I was 15, but for the next 20 years, I was 15," said McKinstry, describing the trauma.
Birmingham and certain counties throughout Alabama at large have changed significantly in the past six decades. But in other ways, nothing has changed.
"Since Richard Arrington became mayor there have only been Black mayors to come behind him," said tour guide Brenda Wright, who has lived in Birmingham for the past 78 years. "Birmingham is very progressive regardless of what you may have been told in the past. We're moving forward."
Current Birmingham Mayor Randall L. Woodfin was present at some of the forums at the NABJ conference held at the large sports complex downtown.
Neighboring cities like Selma and Montgomery, the capital of Alabama, played equally major roles in the Civil Rights Movement. This week in Montgomery, a series of viral videos online captured a group of white boaters assaulting a Black riverboat captain. The boaters were blocking a riverboat from docking and staunchly refused to move. They then proceeded to attack the captain when he started to untie the vessel. Black coworkers, passengers, and other onlookers jumped in to help the man. Three white people are supposed to be charged with misdemeanor assault and one Black man who wielded a chair in connection to the riverfront brawl is being asked to turn himself in, reported the Associated Press.
The incident has once again spotlighted racial relations between Black and white residents in Alabama on a national stage.
About Author