2021 LaWanda K. Smith Award
2 min read
Azaria Watkins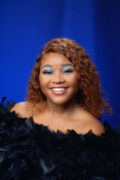 By Audrey Grayson
Two North Brevard graduating seniors have been selected to receive the 2021 LaWanda K. Smith Scholarship Foundation Award. Both selected seniors are Titusville High School seniors who plan to use their talents, interest, and further training to prepare to make a positive difference in the lives of others. Their observations and life experiences have prompted them to pursue a path of service and commitment to make a difference in their community. Receiving this year's award are Azaria Watkins and Rhagin Fayson.
Azaria Watkins is the daughter of Pamela Parker and Christopher Watkins. Azaria plans to attend Valdosta State University where she will major in psychology. She plans to become a Behavioral Specialist. Miss Watkins mentioned that she encountered various setbacks throughout her four years of high school, however, she readjusted. Ultimately, she will become an entrepreneur in her field of expertise. An award of $2,000 was presented to Miss Watkins.

Rhagin Fayson is the daughter of Tangela Brown. Rhagin plans to attend Eastern Florida State College or Daytona State College where she will pursue a degree in Healthcare Management. Her preference is to be able to hear directly from patients in a hospital, public health department or nursing home. She firmly believes that every person is entitled to quality medical care and dignity when in need. An award of $500 was presented to Miss Fayson.
The LaWanda K. Smith Scholarship was established in 2007 as a memorial to the late LaWanda Karen Smith. She was a 1990 graduate of Astronaut High School, a graduate of Florida A&M University, a computer scientist and a project manager with the National Security Administration and employed by Brevard County Parks and Recreation. Until her death LaWanda maintained her sincere interest in the academic, social progress and the achievements of the youth and adults with whom she worked.
About Author