Local Business Creates COVID Vaccination Unit on Site to Help Get Floridians Vaccinated
3 min read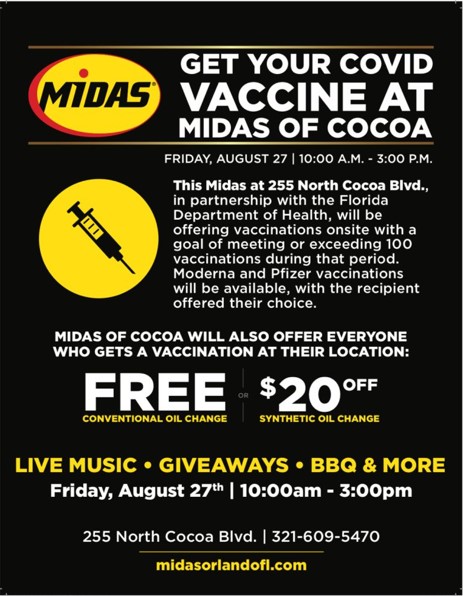 By Wendy Gordon
With the Delta variant causing COVID cases to skyrocket, especially in Florida, more than ever, it is important to get vaccinated.
On Friday, August 27th from10-3 pm, Midas of Cocoa, located at 255 N. Cocoa Boulevard will be offering vaccinations on-site with a goal of meeting or exceeding 100 vaccinations during that period. Pfizer and Moderna vaccinations will be available with the recipient offered their choice. This also will include third booster shots.
Midas will also offer everyone who gets a vaccination at their location a free conventional oil change or $20.00 off a Synthetic oil change (does not expire), $10.00 Gift card, live musical entertainment, giveaways and a BBQ.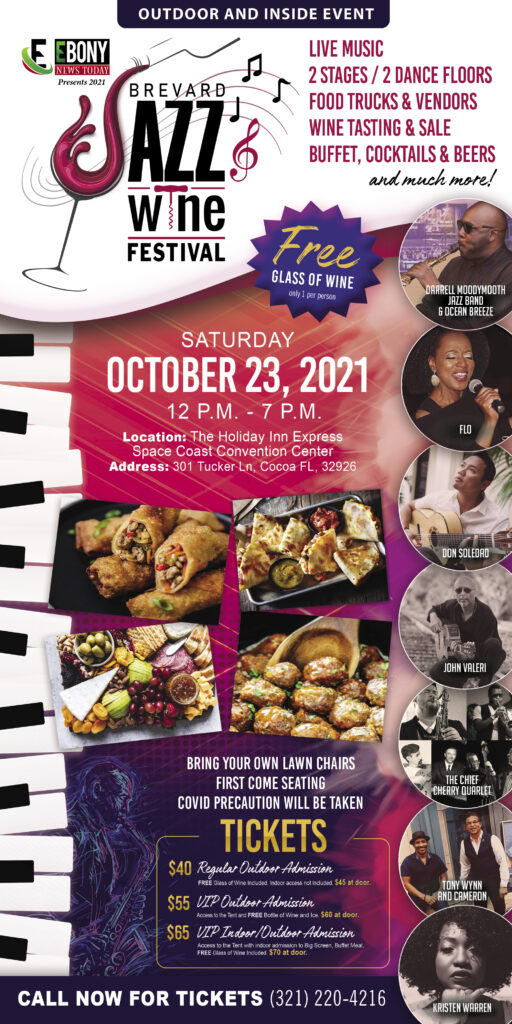 Midas franchisee Ron Katz and his team have worked with the Florida department of health, the mayor's and governor's offices to facilitate this event.
"We are keeping this 100 percent non-political," says Katz. "We have a history of giving back to the community and are pleased to be able to set up this vaccination site near one of the most traveled intersections in the area. We just want to help the community—and at this point in time feel this is the best way to do that."
Ron has an impressive and sustained track record of giving back. His outreach activities include quarterly blood drives at his Midas locations with free oil changes for folks who donate, (featuring the Big Red Bus on the premises with free lunches, also) as well as Teacher of the Month and Teacher of the Year sponsorships with local schools. Working with the Palm Beach County Cares organization, and partnering with co-franchisee Jerry Kaye, Ron has taken a proactive role in hurricane relief efforts in recent years—both in 2019, when Dorian hit the Bahamas, and in 2017, when Maria devastated Puerto Rico. To assist post-Maria, Ron turned his West Palm shop into a relief supplies drop-off center, sent out requests for
donations and raised awareness on social media. Donations came pouring in—clothes, water, food, diapers, medical supplies, even a generator. In all, he brought more than 20 pallets' worth of food, water and supplies such as flashlights, diapers and batteries to the islanders via ship and plane. In total, Ron and his team collected and delivered assistance supplies totaling $100,000 for the two hurricane relief initiatives.
In 2019, when the federal government shut down, Ron offered free oil changes and other services to government here), as a part of Midas' Project Spark initiative. Last fall, he staged a fundraiser in his West Palm Beach store for a customer diagnosed with esophageal cancer, raising close to $10,000 (including 10% of the shop's sales that day). The event featured a rock concert, car show, food trucks, prizes, giveaways—and a blood drive. Finally, for consideration, a typical random act of kindness: When a temporarily homeless gentleman earlier this year approached Ron requesting help, he fixed his car for free, gave him a place to stay (in a storage area at his West Palm Midas location) and then subsequently hired him as a porter.
About Author