People pictured lying on the floor of Jacksonville antibody treatment site
3 min read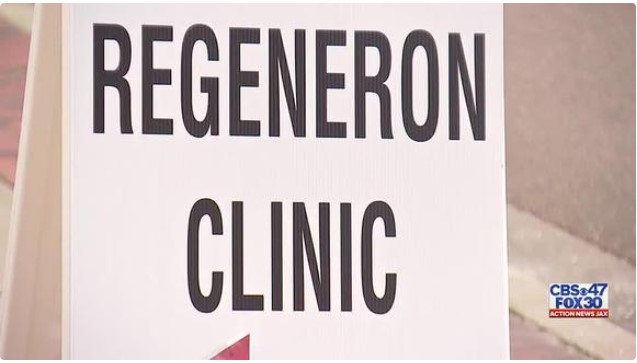 By Samantha Mathers, Action News Jax Posted by 
Action News Jax 1 day ago
JACKSONVILLE, Fla. — The City of Jacksonville says the number of sick people turning up for antibody treatment has more than doubled since it opened.
In a photo shared on social media this morning, people can be seen lying on the floor. The city confirmed to Action News Jax the site ran out of wheelchairs for people to use and is working to get more resources to the site as quickly as possible.
The city provided the following statement to Action News Jax:
"The volume of patients seeking this treatment more than doubled yesterday. In order to support the State of Florida in their efforts to provide this important treatment, JFRD and COJ are providing triple the number of wheelchairs, additional seating for those waiting in line and signage that directs patients to alert someone if they need any type of assistance. We are encouraged by the increase in activity at this location because the data shows monoclonal antibody treatment is key to alleviating stress on our area hospitals. We want to thank Governor DeSantis and his team for quickly providing this treatment option to the citizens of Jacksonville.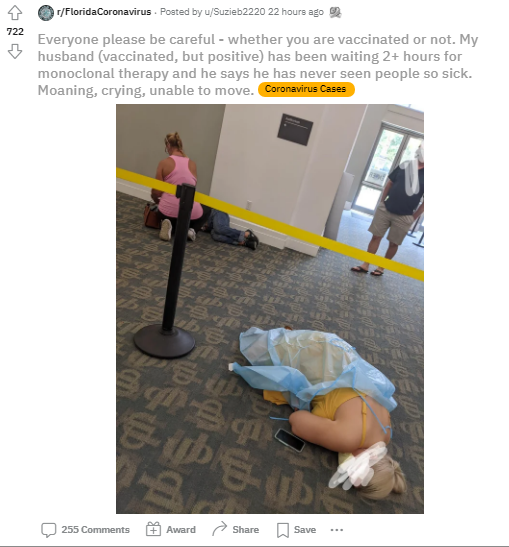 The Regeneron site at the library opened this week to people who have tested positive for COVID-19 or for those who have been exposed to the virus and are at a high risk of being hospitalized.
The U.S. Food and Drug Administration issued an emergency use authorization (EUA) for the treatment's use in mild to moderate COVID-19 patients ages 12 and older in November 2020.
Action News Jax confirmed 143 monoclonal therapy doses were given out Wednesday, up from 97 doses Tuesday.
According to a tweet from Gov. DeSantis, the Jax Library site will be able to handle more than 300 appointments each day.
The site will be open from 9 a.m. to 5 p.m., 7 days a week.
Location:
Jacksonville Main Public Library Conference Center
Please enter through the Main Street Entrance
304 North Main Street
Jacksonville, FL 32202
Hours of Operation:
Monday through Friday 9 a.m. to 5 p.m.
Parking:
Two hours of free parking will be available at the following locations
-Library Parking Garage
Only First Floor and First Floor Ramp
-33 West Duval Street, Jacksonville, FL 32202
Please use the garage ramps to exit the garage onto Duval Street
-You may also use any Parking Meter parking spot marked Patient Parking located on:
Duval Street between Ocean Street and Laura Street
Monroe Street between Laura Street and Main Street
HOW DOES THE THERAPY WORK?
The FDA said the monoclonal antibodies are laboratory-made proteins that mimic an individual's immune system's ability to fight off the virus. The antibodies are directed against the spike protein of the coronavirus and are designed to block the virus's attachment and entry into human cells.
If the treatment is applied early and properly, DeSantis said it has the ability to reduce the likelihood of hospitalizations and death by 70%. Health officials said the treatment can be distributed by IV and other faster methods.
©2021 Cox Media Group