Gettysburg Makes History and Swears In the First Black and Female Mayor, Rita Frealing
3 min read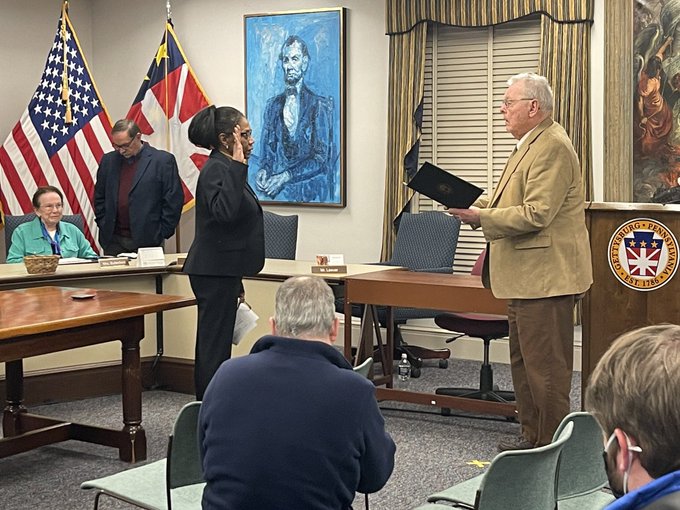 Gettysburg, the location of one of the single bloodiest battles of the Civil War, has made history twice in one day by swearing in its first African-American and first female mayor. The honor has been over two centuries in the making.
Rita Frealing is the first Black person and woman to be elected and sworn in as mayor in Gettysburg, Pennsylvania, the town considered to be the turning point in the war that freed enslaved African-Americans.
Frealing noted that she had trepidation about the job ahead, but is ready for the job, saying, "I was a little nervous but hey, I think that comes with the territory and I have a lot to learn, and it begins now and I have been doing things before but work starts now."
Many are commenting on her win, noting that she worked hard to claim the town's executive position.
Wesley Heyser, the president of the Borough of Gettysburg council, said, "Frealing ran a very good campaign and a very positive campaign and I think many people were ready to see her as mayor and we're happy to have her."
The vice president of the Borough of Gettysburg council Matthew Moon added, "And then to elect a Black mayor, it means a lot, it means a lot to a community that has struggled for a couple of years."
Frealing was not a traditional candidate, having worked in government and also in the communications and media space. She received her B.A. from Penn State and her JD from Dickinson Law School, credentials that helped her secure a combined 20 years in Pennsylvania state and local government.
When asked by the Gettysburg Times why she would be the best candidate for the job, she shared that she grew up near the town and is now a resident. She also believes that her background and experience enable her to serve as an "articulate ambassador who is also able to work with the borough council and the police department."
She went on to detail that background in a statement:
"I was director of public liaison for the Pennsylvania State System of Higher Education, director of communications for the PA Department of Public Welfare, and director of Dauphin County Domestic Relations. Serving as chief legal counsel and legislative director for PA Senator Vincent Hughes, deputy press secretary for Gov. Bob Casey while also working in his Office of Policy and as director of government relations for the PA State Department of Education has given me knowledge of federal, state and local government relations.
"My communication and listening skills are pluses that have been honed by my media background working as a reporter and anchor at local television and radio stations," she added.
Freiling went head to head with her Republican opponent, Thomas Carr.
In the November election, where 1234 participants voted, she accumulated a total of 742 votes (60.1 percent). Carr received 492 votes (39.9 percent). In the 2020 Census, the population of Getty was recorded as 7,620 people.
About Author