Matthew's Hope opening second location in Brevard County
4 min read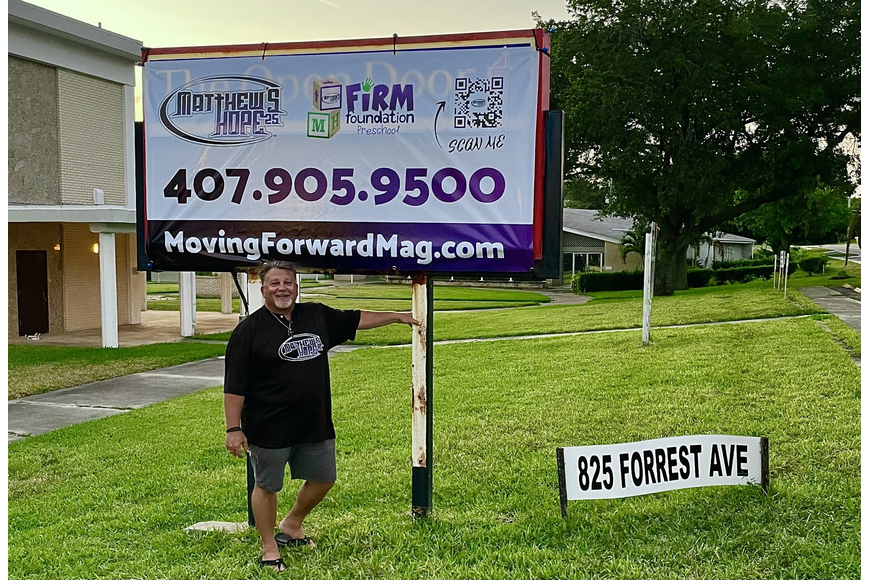 by: Amy Quesinberry Community Editor
The homeless ministry is starting a similar
program in Brevard County. Founder Scott Billue said it will
operate separately from the West Orange County program and there will be no crossover of funds.
A generous donor has stepped up to help create a Matthew's Hope homeless ministry in Brevard County — and Scott Billue, the founder of the original West Orange County location, wants to make sure citizens know it will not take anything away from the local organization.
"Although it's one ministry, they will operate under two different financial structures, so whatever is donated in the Winter Garden area stays in West Orange," Billue said. "It does not come (to Brevard). We're using separate funding, separate bank accounts. … We want to make sure everybody knows we have been financially gifted with an opportunity to duplicate in Cocoa what we are doing in Winter Garden," Billue said.
Matthew's Hope posted a comment on its Facebook page
reiterating the fact:
"Matthew's Hope is not leaving Winter Garden, and no funding intended for Orange County is mixed with those in support of Matthew's Hope Brevard," the post read. "Matthew's Hope Ministries is pleased to announce that it has received a financial commitment that will allow the Winter Garden-based homeless ministry to expand its operations to Brevard County while continuing its services in Orange County, Florida."
The organization will operate under one board, but Billue and his team are looking to put together an advisory board in Brevard to have input from that community.
Cocoa's mayor, commissioners, city manager and police chief all are in favor of the expansion, Billue said, and several have toured all of the West Orange facilities.
The Brevard County location will be set up at 825 Forrest Ave. in Cocoa and should be open for services this fall.
The local Matthew's Hope operates a food pantry, mobile outreach, transitional housing, preschool, medical home and woodworking shop. These same services will be offered in Brevard in the next year. The main difference is all the services will be located on one large piece of property.
The site — with nearly six acres of land and 35,000 square feet of building space, including a small chapel, sanctuary, fellowship hall and dozens of classrooms — previously operated as a Methodist church before it merged with another church.
Already, someone has donated a golf cart and another person is giving Matthew's Hope Brevard a recreational vehicle that Billue said can serve as its initial transitional housing.
Shelley Bradford will continue to serve as executive director over both locations. Sharlene Dewitz will become director of Central Brevard, and Andrea Pumar will be the director for West Orange. Meagan Galamback is director of the preschool, but because she has to be on location 60% of the time, there will be an assistant director at each preschool.
A few graduates of the program are relocating to Brevard County to work on staff, including John Noren, a certified chef who will have his own full kitchen onsite.
Billue said the Brevard location will raise funds in the same manner as West Orange through donors and annual events such as the Garden Party and the Giving on the Green golf tournament.
The property includes a large church sanctuary, and although Matthew's Hope won't be planting a church, Billue said several churches have inquired about renting space — which would create another source of income for the organization. Wedding receptions, concerts and other group events would be able to rent the accompanying fellowship hall as well.
The property was valued at $3 million, and a potential buyer made an offer prior to the pandemic, but the developer wanted to tear down the church and building a shopping center.
"I can't tell you how many people have said they were married there, their kids were baptized there," Billue said. "We've met so many people who have been praying over the property that one day it would be used as a ministry."
Bruce and Valarie Britt are among those praying for a positive use of the property and are the first staff members to be hired. They currently are training for their positions as outreach and campus pastor and to operate the software systems, respectively.
Several people who previously were helping Central Brevard's homeless have signed on as volunteers.
The "angel investors," as Billue calls them, paid $1.45 million and have budgeted another $750,000 to get the property ready for Matthew's Hope.
"I've got support lined up for the next 24 to 36 months while we build our funding base (in Brevard)," Billue said.
Cocoa Mayor Mike Blake said there isn't much in the way of assistance for homeless folks in his community and he is eager to see Matthew's Hope make some positive changes.
"It addresses the needs of those who are in need of help … but the most important thing I love about it is the accountability," Blake said. "The program is transparent. I had the opportunity to see it in full effect, so that's why I endorse it with open arms. Here's the beautiful thing about it. … No money is given. It's a point system. You invest in the program. Sweat equity. I see a lot of the people who have faced challenges and persevered turning around and investing in others."
He has had significant interest from people wanting to serving in some capacity.
"I have people already buying into his program," Blake said. "I'm formulating a committee that will consist of 501©3, local government and federal government and family members and ministerial. When everyone has skin in the game you get more productivity. Positive productivity produces pleasing performance."
About Author