Black-Owned Coffee Shop In Elk Grove Fights To Stay Open
2 min read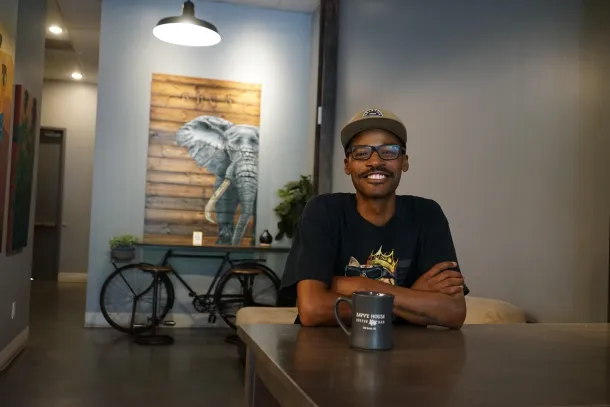 Savvy House Coffee Bar, a Black-owned cafe in Elk Grove, is closing its doors only three years after opening in 2019.
Owner Jamaar Anderson is behind on rent and said the landlords are unwilling to work with him. Soon, he and his staff of five will be out of work – and his customers will be without their favorite spot.
"There's some days where I don't even want to look them in the eye and have the conversation," Anderson said of breaking the news to his customers. "It's tough to tell people that we're not going to be here."
Anderson said the COVID-19 shutdowns and current economy have exhausted his resources.
"Rentwise, the pandemic put everybody behind," said Anderson, 40. "But who [the landlords] decide to work with is up to them. I've heard they'll work with some franchises, but may not work with small businesses."
Anderson plans to reopen Savvy as a full restaurant at another Elk Grove location, launching a GoFundMe to raise $75,000.
Savvy saw its biggest numbers during the height of the 2020 social uprisings, at one point having a $2,000 day – but it didn't last, Anderson said. In recent months, Savvy has had eight-hour days where it didn't break $200.
"Places like Starbucks get the amount of customers in one hour that we get in a day – they may have a $2,000 half day," Anderson said. "I don't need that many customers, I just need a handful of loyal ones."
Doris Alkebulan has been a loyal customer since being introduced to Savvy via a Facebook post before the pandemic.
"Having a cup of coffee is a treat in this economy," said Alkebulan, a daily coffee drinker there with her husband, Imhotep, who was enjoying a lemonade. "Making a conscious decision to spend my money here – and tip – empowers the community."
Community is the foundation of Savvy. In just a few years it became home to study groups, pop-up shops, poetry nights and other gatherings.
"It became a place of civic engagement," Anderson said. He added that in the aftermath of George Floyd's murder, Savvy started doing "political panels. We wanted to boost the morale of the community."
Anderson's morale remains high despite the impending closure. He has received an outpouring of support from the community, receiving visits from recent Sacramento County district attorney candidate Alana Mathews and Mayor Bobbie Singh-Allen.
"I'm lucky to have a good community that supports me," Anderson said. "They've told me that – wherever the next Savvy will be – they will be there."
About Author