Frances Tiafoe rockets into 2022 US Open semifinals, riding the crowd
3 min read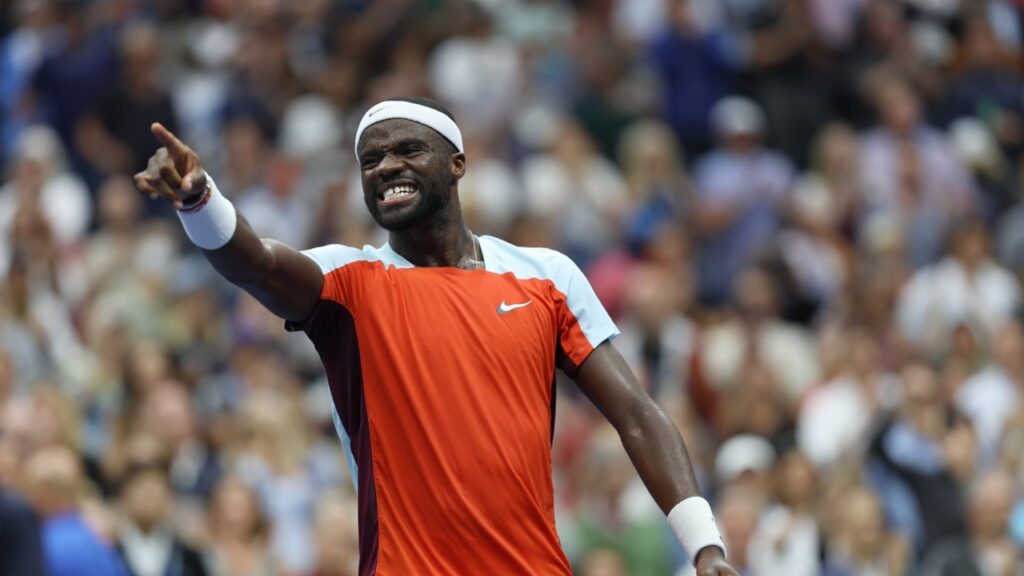 Dan Levinsohn
In defeating the US Open's No. 2 seed Rafael Nadal of Spain at the 2022 US Open, 24-year-old American Frances Tiafoe truly established himself on an international level as one to watch.
But in winning a subsequent, straight-sets quarterfinal against ninth-seeded Andrey Rublev—becoming the first American man since Andy Roddick in 2006 to book a semifinal spot at this tournament—"Big Foe" kicked things into even higher gear, riding the cheers of a packed Arthur Ashe Stadium and using an aggressive play style to win key points at big moments.
Tiafoe is the first African-American man to reach the final four in Flushing Meadows since Arthur Ashe in 1968. He's also a fan favorite and something of a showman who feeds off the crowd's energy: After almost every hard-hit winner, blistering ace, or speedy return in his quarterfinal against Rublev, the American turned toward those in attendance—one arm outstretched, a hand curled around his ear—and all but asked: "Are you not entertained?"
"I couldn't really put my finger on where it came from, but I just love playing in front of a packed crowd," Tiafoe said. "I feel like that's why you train hard–[to] show the world what you can do. Don't shy away from it, go to it."
He added: "It makes me feel good when people appreciate how good you're trying out there, and appreciate good tennis… I just want to go out there and try to give the crowd what they want, and that's me getting a win."
Even though the Washington, D.C., native has competed in Grand Slam tournaments since 2015, Tiafoe really enjoyed a breakthrough on tour around the turn of the decade. In 2018, he won his first tournament in Delray Beach, Fla.; in 2019; he advanced to the Australian Open quarterfinals, and reached the same round in Miami.
Tiafoe said in a post-match press conference it was around the back half of 2019—and the pandemic years that followed—that he became "complacent."
"You go through different stages of your life," he said. "It took me kind of a long time to get myself together."
This was due in part to a rankings system impacted by the global health crisis—and the relative lack of support during matches. "During that time, the cameras weren't on me, the attention wasn't on me. I was able to kind of just get better and do my own thing. And I stopped trying to be 'the guy.' Like, when things were gonna happen, it was gonna happen. I was fine with it, I was comfortable with myself." 
Things are finally "happening," largely due to the 24-year-old's increased appetite to win, but also because new coach Wayne Ferreira—a former US Open quarterfinalist himself—has helped Tiafoe recognize, and address, areas of improvement. Diet was towards the top of the list: The world No. 26 now eats scheduled, balanced meals, and has largely steered away from sugary snacks.
Currently, there are seven American men in the ATP Top 50 rankings. Tiafoe is ranked second, behind 24-year-old Taylor Fritz—who, following a quarterfinal showing at Wimbledon this year, was unexpectedly booted by qualifier compatriot Brandon Holt in the 2022 US Open's first round. But Tiafoe, seeded No. 22 at this tournament, says that the deep field of talented American men has only inspired him to dig deeper, fight harder, play better. 
"You see these guys do well and, obviously, I made the quarterfinals of a Slam [the Australian Open] in 2019," Tiafoe said. "We're all pushing each other. I just so happen to be the guy doing the run right now, but come next year in the Slams, they'll be doing exactly the same. Everyone's super capable, American tennis is in a great place."
Whether Tiafoe's contemporaries can inspire the same level of enthusiasm from a crowd 24,000-strong, however, remains to be seen.
As for right now, Tiafoe said he's just "obsessed" with tennis. He faces a big semifinal challenge on Friday against No. 3 seed Carlos Alcaraz, the 19-year-old prodigy from Spain who has a penchant for five-setters.
Ultimately, when it comes to Tiafoe's relationship with the crowd, the American just wants those watching to dream bigger: "Every time I win, I just want to inspire a bunch of people to know anything's possible."