Justice Ketanji Brown Jackson home for street naming
2 min read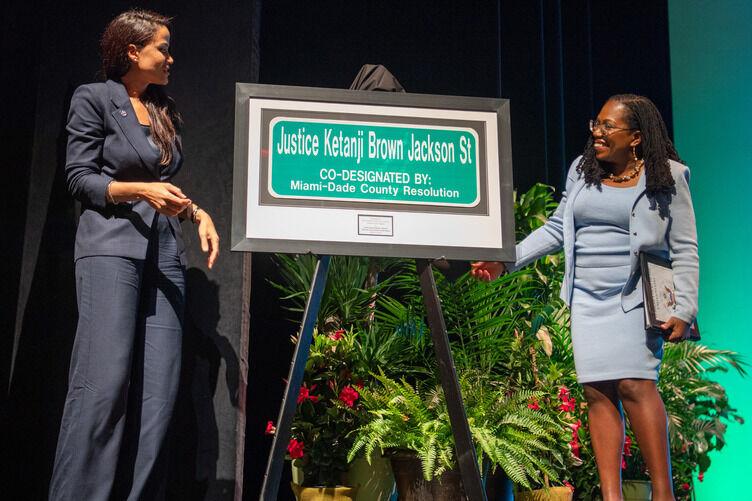 By: Jazmine Santillana Miami Times Staff Writer
United States Supreme Court Justice Ketanji Brown Jackson returned to her hometown March 6 for special recognition by the Miami-Dade County Commission as it renamed a street in her honor.
Commissioners unanimously voted in October 2022 to create "Justice Ketanji Brown Jackson Street" after Commissioner Danielle Cohen Higgins sponsored the legislation. The street will be in Cutler Bay, where Brown Jackson grew up, attended school, and where her parents still live. Brown Jackson's South Florida visit was her first appearance back since joining the highest court in the country.
The major arterial road that's been renamed takes up a portion of Eureka Drive and is one that Brown Jackson's parents travel regularly. It is located on SW 184th Street between Old Cutler Road and Caribbean Boulevard.
This is in many ways a celebration of us as it is of me because I grew up among all of you, and this is where I got my start," said Brown Jackson as she addressed the audience at the renaming ceremony at the Dennis C. Moss Cultural Arts Center. "I believe there is an important connection between my experience growing up in this area and my current position. While I studied, competed and grew up in this community, I learned how to lean in despite obstacles and be resilient."
Higgins said the renaming was the least thing the community could do to congratulate Brown Jackson for her success.
"Justice Ketanji Brown Jackson represents everything that is possible and excellent in our community and country," said Higgins.
Brown Jackson, a graduate of Miami Palmetto Senior High School's 1998 graduating class, was student body president and part of the school's debate time, leading her to famously become a national debate champion. She excelled not only in academics but in leadership, with numerous accomplishments already under her belt when she headed to Harvard University to pursue her career in law.
The Supreme Court justice has broken a glass ceiling by formerly serving on the U.S. Court of Appeals for the District of Columbia as its first Black woman judge. Her trailblazing achievements led Miami-Dade County Mayor Daniella Levine Cava to reflect on the past and future.
About Author